Chicago's URN Announce Return Of Drummer Jeremiah Link
March 25, 2011, 6 years ago
URN, the Chicago-based gothic/metal band, officially announced today that former drummer, Jeremiah Link, has officially returned to the band after a several month absence.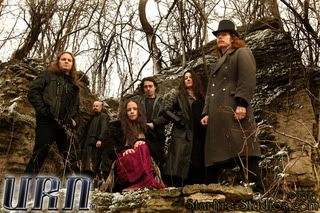 In the interim, URN had been working with Nick Kapka, a long-time drumming veteran as a temporary replacement for the fall tour dates and expressed major interest in joining the band on a full-time basis.
However, after careful consideration, Mr. Kapka concluded that with his schedule and other commitments that it would not work out for both parties in the long term. Mr. Kapka, fulfilling is obligations to the group did record with them as they have just completed recording demos for their upcoming fourth album, A Hard Winter's Journey, recording again with Dan Precision (RISE AGAINST, NAKED RAYGUN) at Bombshelter Studios in Chicago this past week.
Mr. Link whom had parted ways with URN on very amicable terms at the end of July last year had stayed in constant contact URN's founder/lead singer/guitarist, Dominic St. Charles, and occasionally the two spoke of his possible return to the band if the situation was right. Mr. Link now resumes his role as the band's full-time drummer and the band is currently finalizing tour dates for summer and fall of 2011.
St. Charles commented: "We are extremely lucky to have two such amazing talents to work with us in this time of transition over the last couple of months. All of us in URN are very grateful to have had the opportunity to work with Nick as he became a part of our family of which he will still remain a very dear part of in the times ahead. We also look upon this time with great joy and excitement to have Jeremiah come back to us and in some ways it feels like he never really left. We work very well with him and have many great experiences with him over recent tours and are chomping at the bit to get started again for the many live shows we have planned and get ready for what we feel with be a great new era in our band and in our lives."