CHRIS CAFFERY, JOE PERRY, BUMBLEFOOT, ZAKK WYLDE, MICHAEL ANTHONY Featured In Esquire List Of Best Celebrity Hot Sauces
September 23, 2013, 3 years ago
Esquire.com has published a list of celebrity-branded hot sauces that includes some well known names in rock and metal circles including Chris Caffery (TRANS-SIBERIAN ORCHESTRA, SAVATAGE), Joe Perry (AEROSMITH), Doyle (MISFITS), Michael Anthony (CHICKENFOOT, ex-VAN HALEN), Zakk Wylde (BLACK LABEL SOCIETY) and Ron "Bumblefoot" Thal (GUNS N' ROSES).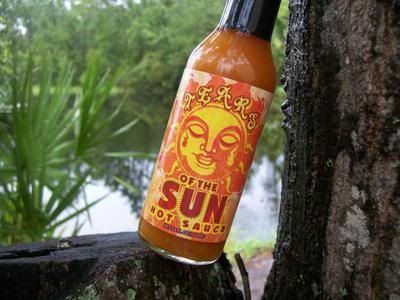 Check out the complete rundown here.
Back in 2012, Caffery sat down with BW&BK;'s Carl Begai and discussed his venture into the world of hot sauce with his own brand, Tears Of The Sun. It is distributed through High River Sauces, which is run by Mosh Potatoes author and metal food junkie Steve Seabury. An excerpt from the story is available below:
Caffery, who only has small windows of time to take care of hot sauce business due to a rigorous touring schedule, credits Seabury for turning Tears Of The Sun into a talked-about product. At press time it was only available in the US due to high (therefore prohibitive) international shipping costs, but Seabury confirmed that he's looking for ways to service the worldwide market. He has also launched the new Top Fuel Verde Sauce in collaboration with RATT frontman Stephen Pearcy and Food Network chef Chris Santos.
"Steve's a real go-getter," he warns. "Just watch, he's going to do something huge with this company. He's extremely motivated, and I'm so proud of what this dude has done with it. He's taken something that was just an idea and ran with it. He had a High River Sauces party in New Jersey a while ago and it was crazy to see the buzz he has going. He's got a lot of good things going on, and the foodie world is a booming little business."
"People need to eat," Caffery adds, "and the advantage it has over the music industry is that if somebody likes your hot sauce and they finish it, they'll go any buy another one. You can't download hot sauce (laughs)."
Go to this location for the complete story.
For information on Tears Of The Sun hot sauce and High River Sauces, click here.