CIVIL WAR - Former SABATON Members To Release Debut Album In May; Title Revealed
February 12, 2013, 4 years ago
CIVIL WAR - featuring ex-SABATON members Rikard Sundén (guitar), Daniel Mullback (drums), Daniel Mÿhr (keyboards) and Oskar Montelius (guitar), as well as vocalist Patrik Johansson (ASTRAL DOORS, LION'S SHARE) and bassist Stefan "Pizza" Eriksson (VOLTURYON) - have issued the following update:
"The working title for the album has been Gettysburg, but now we have decided that the name of the album will be The Killer Angels. The album deals with a lot of stuff: heroes, traitors, battles and heavy metal....and yes: we have a song called 'Gettysburg'. The work with the upcoming May release is proceeding well and the pre-production is almost finished. We shall soon enter the studio for the actual recordings. We'll give you vlogs along the way: count on that. Of course there will be a single and a video released to push the album. More details soon!! This is freaking top secret, but we have a little surprise for you along the way. You'll get to hear about it within
a month!"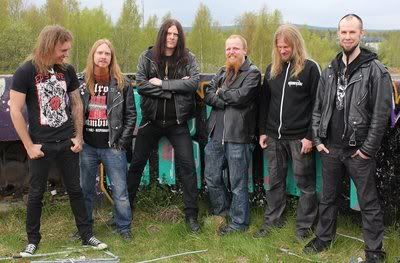 Civil War's debut EP was released in November via Despotz Records. Check out the YouTube clip below to hear the samples:
More on Civil War at this location.