COLDWORKER - The Doomsayer's Call Streaming In Its Entirety At BraveWords.com
January 19, 2012, 8 years ago
COLDWORKER - the Örebro, Sweden-based death metallers featuring current and former members of NASUM, RELENTLESS, RUIN and PHOBOS - recently inked a new deal with Listenable Records for their new album, titled The Doomsayer's Call, which will be released on February 13th.
The Doomsayer's Call is currently streaming in its entirety at BraveWords.com - head to the left-hand-side of the site to launch the KnuckleTracks Online Audio Player.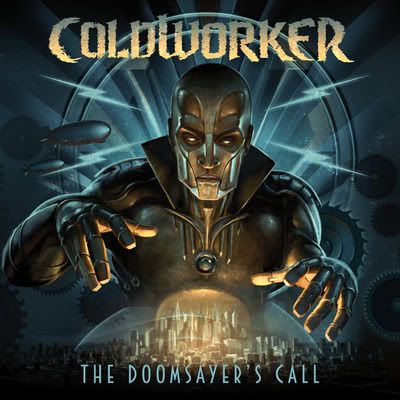 The follow-up to 2008's Rotting Paradise was recorded in part at Soundlab Studios in the group's hometown, while mixing took place at Unisound studios with Dan Swanö (ex-EDGE OF SANITY, BLOODBATH, NIGHTINGALE).
The Doomsayer's Call features the following tracklisting:
'A New Era'
'The Reprobate'
'The Glass Envelope'
'Flesh World'
'Murderous'
'Pessimist'
'Monochrome Existence'
'Vacuum Fields'
'Living is Suffering'
'The Walls Of Eryx'
'Violent Society'
'Becoming The Stench'
'The Phantom Carriage'
Coldworker's Anders Jackobson commented on the recording process: "There's often talk about 'the difficult second album.' Well, history has told me time and again that the third album is usually the most memorable in a band's discography. We have all put more than 100% each into this album, writing songs that will stand out on their own as well as have a natural place on the album, spending many hours in three different recording studios just to get the best out of ourselves and so on. The album is definitively "the next step" for Coldworker, with developed song-writing and performances that are the best we can muster. It's really a band effort as all five members of the band have written songs, and like wise all five of us have opinions about what the final album should be."
Coldworker feature:
Joel Fornbrant - vocals
Anders Bertilsson - guitar
Daniel Schröder - guitar
Oskar Pålsson - bass
Anders Jakobson - drums