Colorado's VACANT THRONE Confirmed For Warriors Of Metal Fest VI Open Air
December 5, 2012, 4 years ago
Colorado-based power metal band VACANT THRONE are the latest act confirmed for Warriors of Metal Fest VI Open Air, to take place at the Frontier Ranch, 8836 York Road in Pataskala, Ohio in June, 2013.
Vacant Throne's self-financed and released debut album is available for free download at this location.
Band founder, guitarist and US Army Infantry veteran of the Operation Iraqi Freedom, Joshua Mortensen states: "We are ecstatic with anticipation to play the Warriors Of Metal Fest VI Open Air in 2013. It will be an honor to share the stage with bands that have shaped our genre and influenced us since Vacant Throne's inception. Nothing is more fulfilling than taking part in an event that brings the US metal community together."
Tickets for the 2013 festival are now on sale at this location.
Confirmed acts:
Warriors Of Metal Fest VI Open Air Pre-Fest Showcase at The Shrunken Head Rock Club in Columbus, Ohio on June 27th: FIAKRA, LADY BEAST, MISTRESS NOBLE BEAST, FLESH ENGINE, SMASH POTATER, VALHALLA, VINDICATOR.
Warriors Of Metal Fest VI Open Air taking place on June 28th - 29th at the Frontier Ranch in Pataskala, Ohio: ALAS NEGRAS, AMADIS, ATTACKER, AXENSTAR, BRAZEN ANGEL, DANTESCO, DAWN OF VALOR, EDEN'S FALL, FLOTSAM AND JETSAM, IRON WILL, MELIAH RAGE, POWER THEORY, RAVAGE, SEAX, SKULL HAMMER, SOLVO ANIMUS, SONIC PULSE, STEEL ASSASSIN, TWISTED TOWER DIRE, VACANT THRONE, VOLTAX, WULFHOOK.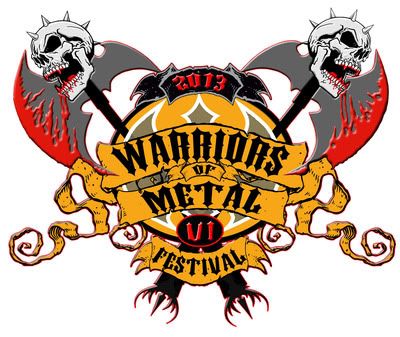 Stay tuned for further festival details at this location.