COMMUNIC Stream New Track Online
July 18, 2011, 7 years ago
Norwegian metallers COMMUNIC will release their new album, The Bottom Deep, on July 22nd via Nuclear Blast Records. The band have uploaded the track 'Denial' for streaming at this location.
Guitarist and band mastermind Oddleif Stensland commented the new material: "I was asked to write a track by track commentary on our new album, but found it to be quite difficult. This is a concept album, based on one specific incident in my life, and splitting it into short comments for each song made no sense right now. It is all dealing with a personal close encounter by death that suddenly came all to close, when someone really close to me passed away way to early. This incident left so many unanswered questions about life and death behind, and all these thoughts and feelings came back to me in form of the words and songs on this album. It is not easy to talk or describe to detailed, but expressing myself through music is easier for me, and it is all written between the lines, so the deeper meaning of the album can be explored by those who feel like it. It is a much darker theme then I have ever done before, and everything is far more personal then I never thought I would be. Writing this album has been like going to a "shrink", it has been more like therapy session for me, something that I just had to do, no matter what people would think of it in the end. I hope I don't have to do another album like this again, even dough I love these songs, and the outcome of the album is for me fantastic - it will be a statement in my life forever, and I am proud of my courage to actually go through with this. Those who cares to read the lyrics and put themselves into the situation will get an even deeper album, even dough the songs will work great on their own as well for those who just like to listen so some interesting mind-twisting-metal tunes."
Check out two album trailers below:
The Bottom Deep tracklisting:
'Facing Tomorrow'
'Denial'
'Flood River Blood'
'Voyage Of Discovery'
'In Silence With My Scars'
'My Fallen'
'Destroyer Of Bloodlines'
'Wayward Soul'
'The Bottom Deep'
Bonus Track:
'In Union We Stand'
Eliran Kantor created the artwork for the album, and states: "The first draft of the lyrics from Oddleif made it clear that this is going to be a very personal, dark and vulnerable record - and I wanted the cover to reflect that. The vulture, nature's version of the grim reaper, caresses the dying man, casting a shadow reveling its true intentions and reason for this last visit. I put alot of myself into this artwork, and I think it turned out great."
Check out the artwork below: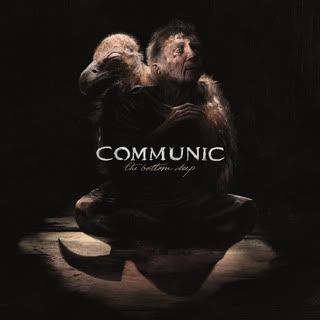 Oddleif Stensland previously commented: "Writing and recording this album has been an amazing - but strange experience. This time we took control over the production ourself, resulting in a more honest and organic sounding album. Never before have I put so much of my own personal influence and privacy into the lyrics and songs as this time. Right now I have a mixed feeling of fear and total excitement as we release the artwork and track listing for this new album. Now there is no return. To open myself this way, exposing my deepest and inner thoughts, in a way I have never done before. Its kinda strange, as it feels like these words and songs came from a part of me that I didn't know about. This is The Bottom Deep. This is the album that I never in my life thought I had to write – but now I know, this will be a totem in my life – forever!"
Dan Swanö, who mastered the album, states: "It was pure pleasure to work with these guys. The mix was excellent to start with, so I finally had the opportunity to work with gentle strokes rather than the big roller that I sometimes have to use to shape-up not-so-good mixes. Musically I enjoyed it very much. It's not easy to label their music (which is good). If I had to mention something, I get that amazing "epic" vibe of QUEENSRŸCHE 84-88. They definitely add something to the family of progressive metal."
American/Danish old school thrash band DEMONICA recently announced they will join FORBIDDEN on their Omega Wave Over Europe 2011 tour, along with Communic. The tour will take the bands across the Netherlands, Belgium, Germany, Switzerland, Italy, Hungary and Poland.
Tour dates are as follows:
August
26 - Kerkrade, Netherlands - Rock Temple
27 - Deinze, Belglium - Alcatraz Metal Festival
28 - Eindhoven, Netherlands - Dynamo
30 - Aschaffenburg, Germany - Colos-Saal
31 - Karlsruhe, Germany - Stadtmitte
September
1 - Aarau, Switzerland - KiFF
2 - Milan, Italy - Live Club
3 - Ingolstadt, Germany - Paradox
4 - Budapest, Hungary - Club 202
6 - Warsaw, Poland - Progresja
7 - Wroclaw, Poland - Firlej
8 - Braunschweig, Germany - Schweinebärmann
9 - Osnabrück, Germany - Bastard Club
10 - Essen, Germany – Turock