CRYPTOPSY - Video Interview From Halifax
July 12, 2012, 6 years ago
Louis-Paul Chiasson from metalmouthmedia.com interviewed Montreal's CRYPTOPSY on July 6th at the Spread The Metal festival in Halifax, NS where 100% of ticket revenue went to the Hear and Stroke Foundation.
Pre-sales for the new self-titled Cryptopsy album will tomorrow July 13th; and will only be available via their new website, Cryptopsy.ca (which goes live on Friday).
As special thanks to you, the pre-sale participants, the band has decided to give some digital goodies. First, on August 14th, one month before the digital release and official street date, you will receive two songs from the new album. Then on September 11th, you will receive the Making of Cryptopsy (a 30 minute documentary) alongside your completed album.
All pre-sale participants will be placed in a draw to win the following grand prize:
- Autographed limited edition vinyls of Ungental Exhumation, Blasphemy Made Flesh and None So Vile.
- Autographed CD of Cryptopsy.
- Full merch package, guy shirt, girly and zip-up hoody of Cryptopsy.
The official Cryptopsy trailer, a 3-minute musical and video medley, will be released on Friday to give you a taste of the new album.
The band issued the following statement, "We hope that you enjoy the sneak peek of the new Cryptopsy, we greatly appreciate your dedication and support. It is thanks to your help alone that we can continue doing this!!!"
The new album artwork by Mircea Gabriel Eftemie can be seen below: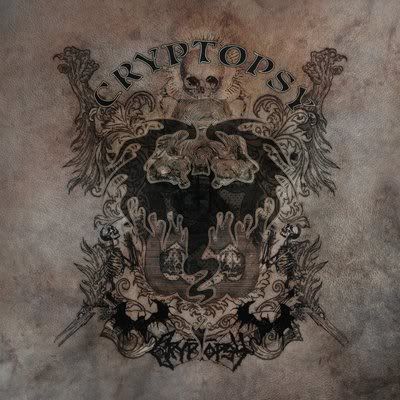 Cryptopsy tracklisting:
'Two-Pound Torch'
'Shag Harbour's Visitors'
'Red-Skinned Scapegoat'
'Damned Draft Dodgers'
'Amputated Enigma'
'The Golden Square Mile'
'Ominous'
'Cleansing The Hosts'
Check out a live version of the new song, 'Amputated Enigma', from their recent Windsor show below: