DEATH - Classic 'Pull The Plug' Live Streaming At BraveWords.com
February 3, 2012, 5 years ago
On February 28th in North America, March 2nd in the Benelux / Germany, and March 5th in the UK and rest of Europe, Relapse Records will issue a deluxe live 2CD DEATH collection featuring two separate Death concerts, titled Vivus! A live version of the classic Leprosy-era track 'Pull The Plug' is currently streaming online at BraveWords.com - head to the left-hand-side of the site to launch the KnuckleTracks Online Audio Player.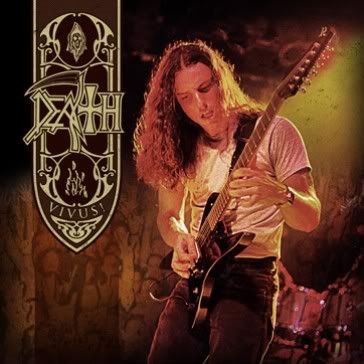 Each of the 24 songs featured on Vivus! can now be previewed on iTunes and the packages preordered at Relapse.com.
Both shows contained on Vivus! were recorded in 1998. Disc one features the band at the height of their prowess tearing the roof off of the infamous Whisky A Go Go in Los Angeles, while disc two is a brilliant recording of the band on the festival stage at Dynamo Open Air.
This collection will contain extensive liner notes from Death insiders and never-before-seen photos of the band.
Vivus! tracklisting:
Disc 1 - Live In LA – 1998
'The Philosopher'
'Spirit Crusher'
'Trapped In A Corner'
'Scavenger Of Human Sorrow'
'Crystal Mountain'
'Flesh And The Power It Holds'
'Zero Tolerance'
'Zombie Ritual'
'Suicide Machine'
'Together As One'
'Empty Words'
'Symbolic'
'Pull The Plug'
Disc 2 - Live In Eindhoven – 1998
'The Philosopher'
'Trapped in a Corner'
'Crystal Mountain'
'Suicide Machine'
'Together As One'
'Zero Tolerance'
'Lack Of Comprehension'
'Flesh and the Power It Holds'
'Flattening of Emotions'
'Spirit Crusher'
'Pull the Plug'
Pre-orders can be made at this location or via the Amazon links below: