DEEP PURPLE - Four Live Double CDs Due August 16th
August 4, 2011, 8 years ago
Eagle Rock Entertainment has announced the August 16th release of four double-discs of the deepest of DEEP PURPLE's onstage action: Scandinavian Nights, In Concert 1970-1972, Live In London and MK III: The Final Concerts.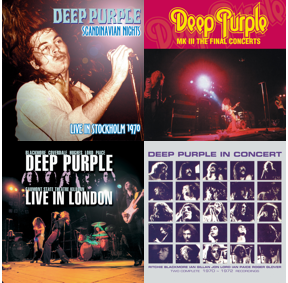 Scandinavian Nights, from 1970, features the most classic of Purple lineups, lead guitarist Ritchie Blackmore, keyboardist Jon Lord, vocalist Ian Gillan, drummer Ian Paice and bassist Roger Glover. Recorded for Swedish radio while on tour in support of their groundbreaking In Rock album, the band, a well-oiled machine of epic proportions, rips through elongated versions of 'Speed King', 'Into The Fire', 'Child In Time', 'Wring That Neck', a cover of the ROLLING STONES' 'Paint It Black' (as a Paice drum solo), 'Mandrake Root' and 'Black Night'.
The same lineup In Concert 1970-1972 recorded two shows for the BBC. The 1970 gig is four songs stretched out to almost 50 minutes in true DP style like no other band ever - 'Speed King', 'Child In Time', 'Wring That Neck' and 'Mandrake Root'. In the '72 concert, they performed every song off their classic Machinehead album (except 'Pictures Of Home') including a 21-minute version of 'Space Truckin''.
This is the first time Live In London has been released in North America on CD. Complete with new frontman David Coverdale and new bassist Glenn Hughes (essentially giving the band two lead singers), the band were back home in London in 1974 performing in support of the Burn album. The band, indeed, burned through the title track, 'Might Just Take Your Life', 'Lay Down Stay Down', 'Mistreated', 'Smoke On The Water' and, on Disc #2, 'You Fool No One' and 'Space Truckin''.
A year later, with no idea its lead guitarist and co-founding member Ritchie Blackmore had already decided to leave the band, Deep Purple, with Coverdale and Hughes now solidly entrenched and performing magnificently, embarked on a European tour in support of Stormbringer. MK III The Final Concerts excitingly documents Blackmore's swan song with the band on 'Burn', 'Stormbringer', 'Gypsy', 'Lady Double Dealer', 'Mistreated', 'Smoke On The Water', 'You Fool No One', 'Space Truckin'', 'Going Down/Highway Star', and alternate versions of 'Mistreated' and 'You Fool No One'.