DEF LEPPARD, BRET MICHAELS To Perform At Rock Of Ages Movie Premiere Tonight
June 8, 2012, 7 years ago
Tonight (June 8th) at 8:45 pm (PST) watch DEF LEPPARD and POISON's Bret Michaels will perform at the Rock Of Ages movie premiere in Los Angeles via YouTube live stream. For more details visit YouTube.com.
The Rock Of Ages film and album sees the all-star Hollywood cast - Tom Cruise, Catherine Zeta-Jones, Russell Brand, Julianne Hough, Diego Boneta, Malin Akerman - singing some of the greatest hits of the hair band era including GUNS N' ROSES, WHITESNAKE, NIGHT RANGER, DEF LEPPARD, BON JOVI, JOURNEY, POISON, TWISTED SISTER, FOREIGNER, BON JOVI and JOAN JETT.
The soundtrack album Rock Of Ages can be streamed in it's entirety at this location.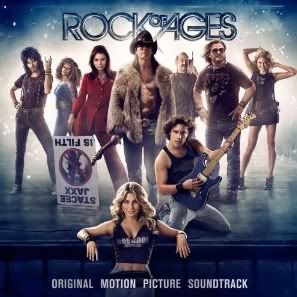 The Rock Of Ages tracklisting is as follows:
'Paradise City' - Tom Cruise
'Sister Christian'/'Just Like Paradise'/'Nothin' But A Good Time' - Diego Boneta
'Juke Box Hero'/'I Love Rock 'N' Rol' - Diego Boneta
'Hit Me With Your Best Shot' - Catherine Zeta-Jones
'Waiting For A Girl Like You '- Diego Boneta
'More Than Words"/"Heaven - Diego Boneta
'Wanted Dead Or Alive' - Julianne Hough
'I Want To Know What Love Is' - Malin Akerman
'I Wanna Rock' - Diego Boneta
'Pour Some Sugar On Me' - Tom Cruise
'Harden My Heart' - Julianne Hough
'Shadows Of The Night'/'Harden My Heart' - Julianne Hough
'Here I Go Again' - Diego Boneta
'Can't Fight This Feeling' - Russell Brand
'Any Way You Want It' - Julianne Hough
'Undercover Love' - Diego Boneta
'Every Rose Has It's Thorn' - Diego Boneta
'Rock You Like A Hurricane' - Julianne Hough
'We Built This City'/'We're Not Gonna Take It' - Russell Brand
'Don't Stop Believin'' - Diego Boneta