DEF LEPPARD Start Work On "Forgeries" Of 'Hysteria', 'Bringin' On The Heartbreak' For 2012 Release
July 17, 2012, 5 years ago
In BraveWords.com scribe Mitch Lafon's chat with DEF LEPPARD's Phil Collen (before the band's show in Montreal on July 16th), he revealed that the group have started work on the next two 'forgeries' - 'Hysteria' and 'Bringin' On The Heartbreak'. Both should be released this year via iTunes and Amazon.
Gary Graff of Billboard.com recently reported:
With newly recorded "forgeries" of 'Pour Some Sugar On Me' and 'Rock Of Ages' now available, Def Leppard has begun a series of re-recordings of its catalog material and "wrestled control of our career back" from the Universal Music Group, which frontman Joe Elliott says the band refuses to deal with "until we come up with some kind of arrangement" over compensation, especially for digital downloads.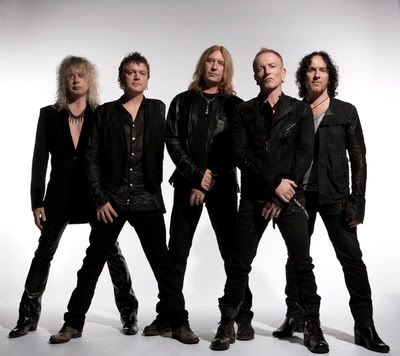 "When you're at loggerheads with an ex-record label who... is not prepared to pay you a fair amount of money and we have the right to say, 'Well, you're not doing it,' that's the way it's going to be," Elliott tells Billboard.com. "Our contract is such that they can't do anything with our music without our permission, not a thing. So we just sent them a letter saying, 'No matter what you want, you are going to get "no" as an answer, so don't ask.' That's the way we've left it. We'll just replace our back catalog with brand new, exact same versions of what we did."
While the business side seems cut and dried, Elliott says the creative part of recreating songs that date back 25 years or more is not. "You just don't go in and say, 'Hey guys, let's record it,' and it's done in three minutes," Elliott notes. "We had to study those songs, I mean down to the umpteenth degree of detail, and make complete forgeries of them. Time-wise it probably took as long to do as the originals, but because of the technology it actually got done quicker as we got going. But trying to find all those sounds... like where am I gonna find a 22-year-old voice? I had to sing myself into a certain throat shape to be able to sing that way again. It was really hard work, but it was challenging, and we did have a good laugh over it here and there."
Further details can be found here.
Def Leppard is currently headlining the Rock of Ages Tour with POISON and LITA FORD. Remaining dates are as follows:
July
17 - Hamilton, ON - Copps Coliseum
19 - Chicago, IL - Allstate Arena
21 - Omaha, NE - Red Sky Music Festival
22 - Cadott, WI - Rock Fest
August
9 - Sunrise, Florida Bank Atlantic Center
12 - Virginia Beach, VA - Farm Bureau Live
15 - Hershey, PA - Hershey Park Stadium
17 - Buffalo, NY - Darien Lake Performing Arts Center
18 - Boston, MA - Comcast Center
22 - Bangor, ME - Bangor Waterfront Pavilion
24 - Noblesville, IN - Klipsch Music Center
25 - St. Louis, MO - Chaifetz Arena
29 - Lampe, MO - Black Oak Mountain Amphitheatre
31 - Oklahoma City, OK - Zoo Amphitheatre
September
1 - Woodlands, TX - Cynthia Woods Mitchell Pavillion
3 - Dallas, TX - American Airlines Center
6 - Monterrey, Mexico - Arena Monterrey
8 - Mexico City, Mexico - Ciudad de México
12 - Tucson, AZ - Anselmo Valencia Ampitheatre
15 - Santa Barbara, CA - Santa Barbara Bowl