DEREK SHERINIAN Talks About New Solo Effort, BLACK COUNTRY COMMUNION, The Day NIRVANA "Stole The Thunder"
August 30, 2011, 9 years ago
By Mitch Lafon
Keyboardist Derek Sherinian's curriculum vitae reads like a who's who of classic rock BILLY IDOL, KISS, ALICE COOPER, YNGWIE MALMSTEEN, DREAM THEATER and many more. He recently stopped by Bravewords.com headquarters for a quick chat about his new album, Oceana, which is unleashed to the masses in September.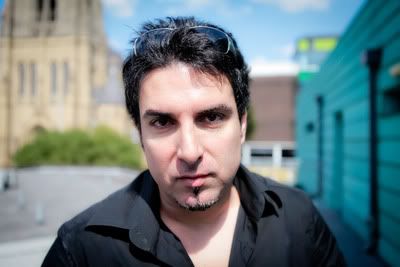 Bravewords.com: You're currently working with BLACK COUNTRY COMMUNION and Billy Idol, so why a solo album?
Derek Sherinian: "I've made solo albums the last eleven years. It's something I really enjoy doing and there's enough people around the world that enjoy them, so the record companies support me in doing them."
Bravewords.com: You've collaborated with Doug Aldrich (WHITESNAKE), Joe Bonamassa (B.C.C), Steve Stevens (Billy Idol) and more on this album...
Sherinian: "They're fantastic. It was my first time working with Doug Aldrich from Whitesnake and that was great. He's a real energetic player and I could see myself doing more stuff with him in the future."
Bravewords.com: Will you continue to make solo records or concentrate on your work with BCC?
Sherinian: "As long as I'm breathing I'll make solo records. I have so many different things going on and that's the great thing about my career at this point. When BCC is happening I focus on that, if there's no scheduling conflicts I tour with Billy Idol, and when there's months off I'm either writing or recording for my solo records. There's never any down time, but I'm the happiest when I'm busy."
Bravewords.com: Are your solo albums your musical writing outlet or do you write for BCC and with Billy Idol?
Sherinian: "I do write on the BCC records and I have written with Billy before, but my solo records are the one place where I get total creative control. That's a very nice thing to have as an artist and it's why I enjoy making my records."
Bravewords.com: You've toured with Planet X and some of your other projects. Will there be an 'Oceana' tour?
Sherinian: "We're working on putting together a European tour for February 2012 and we'll see how that goes before bringing it in to North America. An instrumental tour is a tough sell, so I'll need a few 'names' around me. I'd love to have Simon Phillips play drums because he's just amazing on the records."
Bravewords.com: Instrumental music is also a tough sell. Why not bring in a plethora of guest vocalists on your albums?
Sherinian: "I want to keep the art form pure and I don't want to be limited to writing background music for some guy to sing over."
Bravewords.com: You've worked with Dream Theater. What was your reaction to Mike Portnoy leaving the band?
Sherinian: "I've always known that there was tension between the members and there was talk of Mike leaving when I was in the band, but when he actually did it I was a bit surprised. I just did a couple of festival shows with BCC and Dream Theater were also on the bill. It was great seeing them and they seemed to be in great spirits with their new drummer (Mike Mangini). I've also talked to Mike (Portnoy) and he's in great spirits with all of his doings, so I think it worked out for the better."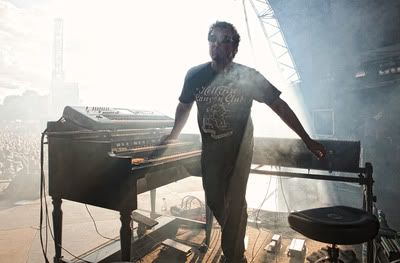 Bravewords.com: Black Country Communion - what's it like working with the voice of rock, Glenn Hughes.
Sherinian: "Glenn is great with his British wit. He's the elder statesman of rock and it's a real pleasure to tour with him. The last nine weeks (touring) have been a very smooth ride. I'd love to do more touring with these guys."
Bravewords.com: True, but why only Europe? Why no BCC in North America?
Sherinian: "We need to do a proper North American tour. We just need to go out there and grind it out."
Bravewords.com: It's strange. The first album was great. The second album was better, but the band remains largely hidden from North America.
Sherinian: "It all comes down to demand. We're selling a lot more records in Europe and the demand for us to play live is greater there. You have to go where the warm current is."
Bravewords.com: What's next for BCC?
Sherinian: "Well, we are putting out a live DVD from this last European tour for Christmas and the plan is to make a third record next spring and then next June (2012) we're going back on tour, but I'm not sure where. That's the rough sketch."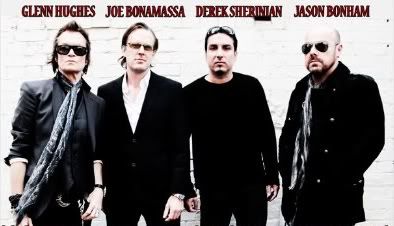 Bravewords.com: What makes BCC work?
Sherinian: "The common denominator is that we all have a love for the great classic rock bands like LED ZEPPELIN, DEEP PURPLE, and that's the vibe of the band when Kevin Shirley got us together. Everyone plays really well and there's no clashes, so we came together to make the best records we could."
Bravewords.com: What's next for you?
Sherinian: "I'm looking forward to spending some time with my family before I go off with Billy Idol in October. Then in November/December, I'll just stay in the studio and write. I'm going to work out new ideas for the next Black Country Communion record... there's always something to write. I'm also going to work on some Beethoven sonatas. I still practice in order to get better on my instrument."
Bravewords.com: Would you make a 'pure' classical album?
Sherinian: "No. I just do it for my own self growth."
Bravewords.com: Tell me about working with Alice Cooper.
Sherinian: "I worked with Alice on and off until 2006. It was a very exciting time in my life. One week I was struggling in L.A. and sleeping on someone's floor and the next week I was in the Alice Cooper band, making MTV videos and playing Wembley Arena. Alice was a great gig."
Bravewords.com: Were you a fan growing up?
Sherinian: "Not really. He was before my time, but I knew who he was. He's iconic and that Trash record was big. To this date, I haven't done a tour that has had as much excitement around it as the Trash tour because he had a top ten single with 'Poison' and there's big difference going out on tour supporting a top ten single and just going out to play the old catalogue. One tour later in '91 or '92, it just fucking died because NIRVANA and all these bands came out and just stole the thunder."
Bravewords.com: You also toured with KISS back then.
Sherinian: "I was the off-stage keyboard player and sang back-ups. It was a three month US tour and I got in thanks to Eric Singer because he had played with Alice. That was in '92 and it was a great experience."
Bravewords.com: Did you learn anything from that gig?
Sherinian: "Musically, I didn't learn anything. I went because I wanted to be exposed. Gene (Simmons) is a master businessman and I just wanted to experience how those guys ran a show. I wanted to see it from the inside because that's a really valuable experience that you can't learn from a book or school. You need to go live it. Just being around Gene rubs off on you."
Bravewords.com: Right. So, when will we see Derek Sherinian coffee mugs?
Sherinian: (Laughs) "It just makes you aware of things you weren't aware of before because Gene is just so sharp."
Bravewords.com: Finally, what can fans expect from your new record, Oceana?
Sherinian: "This record is really focused and inspired by the vintage JEFF BECK records (of the '70s), but with a more modern and aggressive rock approach. This album is less heavy metal and progressive than albums I've made in the past. It's a little more fusion and much more melodic. It's more adventurous with more emphasis based on the melody (since there are no vocals). I wanted to make sure the melody lines where more memorable. My fans will like this and the feedback so far has been really good."
Bravewords.com: What can people expect from your Twitter (@DereksSherinian)?
Sherinian: "It's only career updates. There's nothing about my private life or family. I'm not going to tell that I've just eaten Lebanese food or anything."
Bravewords.com: No inspirational messages?
Sherinian: "No, for that go to Glenn Hughes' Twitter."
Bravewords.com: Will you be calling your fans 'puppies' as well?
Sherinian: (laughs) "No, the puppies are all Glenn's."
Bravewords.com: Anything last words?
Sherinian: "Thank you very much for your time. I hope everyone gets a chance to listen to my new album."
For more details visit Dereksherinian.com.
(All photos by Christie Goodwin)