DERELICT - The Next Canadian Indie Metal Breakthrough?
May 16, 2012, 3 years ago
By Greg Pratt   Ask any indie metal band and they'll agree: it's tough out there. With every major city across Canada boasting at least a handful of hopefuls, it's not easy to stand out and to find your own voice. Montreal's DERELICT have.   "I think finding your own voice is hard at any level," says guitarist Max Lussier. "It's so crucial to be able to find your sound. I'm very proud of the fact that Derelict has been able to hone a sound that I truly believe is our own. Our last album, Unspoken Words, left a strong blueprint, but I feel that Perpetuation is the establishment of our identity as a band."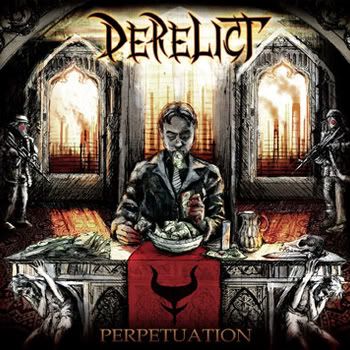 Perpetuation is the band's third full-length, and it shows Derelict with an impressive degree of confidence, their LAMB OF GOD-meets-technical-death-metal sound coming through loud and clear, the production bashing and crashing and bringing all the sounds home just right.   "[Producer] Chris Donaldson did an amazing job at getting the huge, tight sound we were looking for," says drummer Jordan Perry, "and managed to keep everything sounding like a human actually played it, instead of being over-edited and robotic like a lot of records coming out these days."   And more so than the sonic quality, what makes the disc stand out is the music itself. Like I say, I hear groove masters Lamb Of God in there but it's delivered with way more intensity and a death metal attack—not to mention a technical proficiency—that rarely comes attached with groovin' thrash.   "Musically, I think what makes our music stand out is our relentlessness," says Lussier. "Our mix of speed, brutality and melody definitely makes for a very in-your-face sound. We also play pretty technical music, so that's another element of our sound that makes us stand out at times."   The end result is an album that the band fully stands behind and is ready to take on the road. And on that long road they will no doubt begin to show the country that they have what it takes to stand out in the indie scene.  
"We're very proud of Perpetuation," says Lussier. "Musically, I feel it's the most cohesive the band has ever sounded, and lyrically Eric [Burnet, vocalist] was really able to push his ideas in bigger and better ways than ever. I definitely think this is our best material to date."   "We're doing a lot of album launch shows around our home province of Quebec, as well as Ontario," says Perry in regards to exactly where the band will be playing now that the album is out. "We're heading east on a Canadian Maritimes tour in July, then a full western Canadian tour in the fall, if the timing works out. We're hoping to finally get across the border to the States in early 2013." More on Derelict at
this location
.