DIABLO SWING ORCHESTRA Bassist On Pandora's Piñata - "Think Of It As A Bag Of Tricks, A Room For Safe Keeping"
November 11, 2012, 4 years ago
Sweden's eclectic metal troupe DIABLO SWING ORCHESTRA released their third full-length, Pandora's Piñata, back in May 2012. Bassist Anders Johansson recently spoke with Holland's Lords Of Metal e-zine and an excerpt from the interview is available below: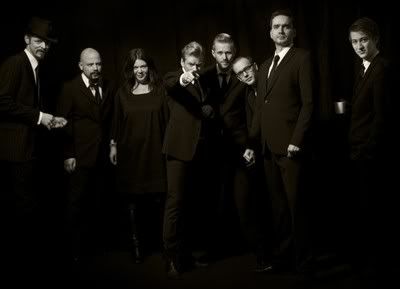 Q: With already two mind-blowingly diverse albums under the belt, was it difficult to determine where to go with the third offering? How would you describe the chosen course for the record?
Anders: "You really think they are that different? Well, I guess you could say that some songs from all three albums were brothers from other mothers in a sense, but I personally believe they all keep some form of thread all the way through. That being said, with this third release, we surely have thickened that thread into a tightrope; something that make us all calmer around eachother musically. Everybody contributes in a wider sense these days, as opposed to the process of The Butchers Ballroom for instance, in which Daniel (Håkansson) did most of the composing. A whole lot has changed since then, though some things seem to stay the same too. Pontus (Mantefors) was already co-producing during our 2005 recordings, which still is the same for todays process. So, everyone of us chipping in like that, is truly noticeable in the finished result, being as vivid as I'd like to say it is. Again, the various personalities of the band represented, as well as our musical backgrounds being of such a wide spread; its all there, and audible. That spread is also what I've tried to convey using all those colours while art directing and drawing the latest album art work. Were simply not just red and black anymore A whole lot of schatterings and hues in there today, in a lot of different ways, wouldnt you agree?"
Q: The album's called Pandoras Piñata, whats behind this curious title?
Anders: "As for the other two full length albums, we weren't only looking for a great title to connect to the other ones before it (albums or EPs), or to us as a band, but also a suitable container of the eleven songs as a whole probably like any other band releasing an album would really. Think of it as a bag of tricks, a room for safe keeping, a collection of literary volumes, if you will. The piñata is our container this time around, and I guess you can all image the possible contents of that one, am I right?"
Go to this location for the complete interview.
Pandora's Piñata tracklisting:
'Voodoo Mon Amour'
'Guerrilla Laments'
'Kevlar Sweethearts'
'How To Organize A Lynch Mob'
'Black Box Messiah'
'Exit Strategy Of A Wrecking Ball'
'Aurora'
'Mass Rapture'
'Honey Trap Aftermath'
'Of Kali Ma Calibre'
'Justice For Saint Mary'
The follow-up album to their 2009-released Sing Along Songs For The Damned And Delirious, also released via Sensory, Pandora's Piñata finds Diablo Swing Orchestra expanded into a massive eight-piece lineup, with the permanent addition of two horn players. The new album is a smörgåsbord of different levels of musical insanity building on the foundation laid down on their previous album. And as always the musical mayhem is fronted by the glass shattering voice of Annlouice Loegdlund, a metal queen at night but a trained opera singer by day, her incredibly infectious and professional range setting the rest of the incredibly layered tunes alive with vibrant flames of originality.
The theme of the album follows the seven cardinal sins that one can imagine falling out of this like-no-other-audio-visual-piñata. The story is also followed up in the artwork which as usual has been created by the band's bass player Anders Johansson. For the third time the band collaborated with renowned Swedish illustrator Peter Bergting to create the album cover. Featuring over fifty minutes of brand new material sure to enlighten, empower, and likely even confuse the everyday metal fan, Pandora's Piñata is undoubtedly an album that most any fan of extreme musical experimentation should experience.
More on the band at this location.