DIAMOND HEAD Guitarist Brian Tatler Featured In New Metal Express Radio Interview
April 21, 2013, 4 years ago
Metal Express Radio correspondent Mick Burgess recently caught up with Brian Tatler from DIAMOND HEAD right before their current US tour. Hear them talk about the current situation with the band, their troubled past and being an huge influence on bands like METALLICA below: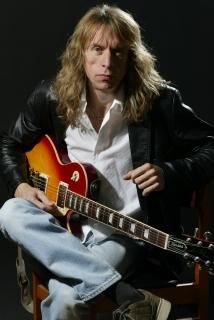 Diamond Head
"After a while I got fed up of it and I started to get quite a bit of pain in my shoulder, 'cause I think my posture wasn't right. You know, I'm not used to play an acoustic guitar sat on a stool, you know, for a long period of time. I'm used to standing with a Les Paul or a Flying V and I just missed that kind of power and that sustain and I was kind of glad when the acoustic gigs were over and it went back to being a proper rock band with guitars and drums."
- Brian Tatler on playing acoustic versions of their songs some years back.
Remaining dates on the band's current US tour are as follows:
April
22 - Cleveland, OH - Peabody 's
23 - Columbus , OH - The Shrunken Head
25 - Long Branch, NJ - Brighton Bar
26 - North Hampton , PA - The Gin Mill and Grille
More on Diamond Head at this location.