DOLL Playing Ottawa Bluesfest This Tuesday With PROTEST THE HERO, THREE DAYS GRACE
July 10, 2011, 7 years ago
Ottawa-based DOLL have issued the following update:
"Just a quick reminder to come and see Doll play their biggest show yet on Tuesday, July 12th at the Cisco Ottawa Bluesfest. We play for a full hour, and expect tons of surprises/free stuff. We play at 6:00pm sharp on the Claridge stage.
Also playing that night are PROTEST THE HERO, THREE DAYS GRACE and JOHN FOGERTY (CCR)
To avoid lineups, pick up your ticket in advance and enter through the museum or the far left (on the museum road). You can purchase tickets here. Hope to see you there."

For event information go to ottawabluesfest.ca.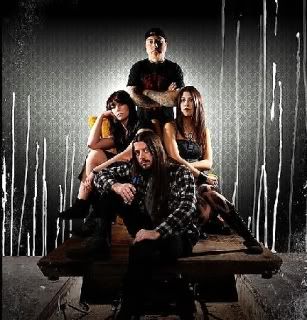 As previously reported, Doll recently spoke with Under The Radar Music about their forthcoming album. An excerpt is available below.
Q: How would you describe the sound of your upcoming CD?
A: We can't wait to launch the album The Ragdoll Sessions. As with every new record should be, it's definitely the best work we've done, where it be the song-writing, the production, the lyrics, everything sounds and feels better. Sound wise, that's a hard question, we feel like that it sounds like Doll, we'll leave it to the media to make comparisons."
We've always been said to be a high intensity band, and this album doesn't disappoint, but we've also shown a different side with 'Sleeping In The Clouds Of NYC', as you never want to be seen as a one trick pony, we love the 'kick your face in' type of alternative we create, but we're also huge fans of more atmospheric and melodic songs, so we believe we've really nailed the Doll sound with this album, and provided the listener with a record that will hopefully last the test of time.
The songs are more focused, catchier, and true, that is one of our biggest things, each song is a story basically, and it's up to the listener to determine what that story is. Our musicianship has really evolved over the years and it shows on this new album. We've been writing tons of new songs and only keeping the best. We're also taking our time with recording to make it perfect. Needless to say we think you'll love it!"
Go to this location for the complete interview.
Doll released their debut album Inside the Dollhouse, which was nominated for Best Rock album of 2009 by the Ottawa Xpress, on April 10th 2009. More on Doll at this location.