DON DOKKEN On New DOKKEN Album - "It Might Even Be Our Defining Moment"
November 4, 2011, 5 years ago
DOKKEN frontman DON DOKKEN recently spoke to BraveWords.com correspondent Deb Rao regarding his upcoming solo acoustic tour, the Dokken Florida trek, and details surrounding the upcoming Dokken release.
Q: Don, you will be embarking on a solo acoustic tour in December. Tell us what inspired you to do the acoustic tour and what the fans can expect to hear at these special events? Will you be digging deep into the classic Dokken catalog?
A: "I had a blast doing the QUEENSRŸCHE tour with Kelly Keeling. It was fun but I confess more stressful than doing a regular Dokken show. When your doing acoustic any mistake is right out there, no covering it up, and yes we made a few, but we had fun."
Q: You are no stranger to performing acoustic. In 2008, you opened for Queensrÿche and most recently Y&T; on New Years Eve at Avalon. What do you enjoy most about performing acoustically? It seems the going trend for artists to return to the concert scene and perform their hits stripped down acoustically. A good song can stand on its own!
A: "I don't know about any trends towards acoustic but agree if you can perform a song stripped down to its essence, no bombs pyro, glitz or glamour and the fans still enjoy it, it says a lot about the song, I've written most of the Dokken songs on an acoustic guitar so it isn't a stretch."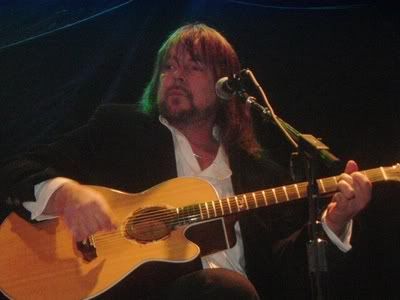 Q: Over the years Dokken has had so many classic hits. It will be so refreshing to hear these songs performed with an acoustic twist. Why do you think 'Into The Fire', 'Breaking The Chains', and 'Alone Again' have remained such classic hits? You really have a knack for writing great melodies and lyrics that people can identify with.
A: "I can't answer that, I just write what my feelings dictate. Mick and I wrote 'Breaking The Chains' sitting in Germany in winter. I guess I should give credit to Rudolf Schenker. I had written the music but had no words, one day he came out of the studio while they were doing Black Out and he asked us what's up? I told him we were stuck trying to write lyrics for some music we had recorded. His response was just write about what's going on in your life, and so we did. The lyrics speak for them self and at the time we didn't know other people would relate to having hard times and wanting to 'break the chains' of their troubles."
Q: During your show in San Francisco this summer, there was a ten-year-old singing along to all the Dokken hits. How does this make you feel that there is a whole new generation of Dokken fans being turned on to your music?
A: "There was a time that I believed we were just bringing back the memories to those that grew up with Dokken but I realize now when I see young kids in the front row singing along, its not just about nostalgia. The kids we see at our shows were not born when we wrote our hits. And the fact that they like our music says volumes. It gives me untold happiness to see them singing all the lyrics and looking happy. I guess a good song stands the test of time. I know many people in there 20's that love THE BEATLES. We're not The Beatles but I think you get my point. It would be great to hear a Dokken song someday while stepping into the elevator." (Laughter)
Q: Will you be performing any songs off of your solo album Solitary on your acoustic trek? This album featured so many special guest stars and really showcased your outstanding melodic vocal style. Also, will you be selling copies of Solitary at your acoustic shows?
A: "I will be selling my solo CD since it is still not released publicly. I will be doing a few from Solitary. It's been several years since I finished it but its not actually done. There's only nine tracks and have since written four more for it. The problem is with Solitary is its a departure from what I am known for, it's cathartic, even a bit melancholy. I wrote it during a time I felt lost and not sure where my life was headed. I'm proud of all the famous people that played on it. I listened to it the other day and agree that it's very mellow. Maybe too much. It's not something you would want to listen to when your headed out on the town, The quality of the mix is outstanding; Wyn Davis gave it a very audiofile mix. I suggest it be listened to on headphones or while chilling out. For those people that can appreciate a hi-fi mix they will love it! I think the four new songs will round it out. They're more up lifting. Maybe I'll release it to the public next year. When I wrote it I was deep into my drug addiction and it shows in the tracks. It was my way of purging my sorrows and regrets. Now after rehab I see the world in a totally different way and it will show in our new CD. Still Solitary was written from my heart and I think people will understand the lyrics and mood I was in during that time in my life."
Q: Will you be recording the acoustic shows for a special acoustic live DVD?
A: "No, I see no point. I'm still a rocker, the acoustic shows are just for fun."
Q: On the Dokken front, the band will be performing a special run of Florida shows in December (note new venue change December 4th Culture Room). Are you looking forward to returning to the Florida area?
A: "Yes, it's been a long time since we've been to Florida. It will be our last shows until the new CD is done. The release date for our new CD is sometime in May. Then we'll be going to Europe to play festivals and then who knows?"
Q: You are currently in the studio recording. Will the upcoming Dokken release follow in the heavy Tooth And Nail vein?
A: "The new CD is awesome! Unlike LSA or Hell To Pay, it won't take three years. Probably since I'm now clean and focused, it's heavy, melodic and only took eight weeks to write. I love it and can't wait to get into the studio and put it down. All the boys are excited. It might even be our defining moment. It's up to the fans to decide. I will stick my neck out and say it will be as good as Tooth And Nail.
Q: Last year Dokken marked the 25th Anniversary of the release of Under Lock And Key. Over 25 years and Dokken is still going strong. Dokken has always been a leader and never compromised their sound to follow the latest musical trend. What would you attribute to Dokken's longevity in the music business?
A: "Luck pure luck. I have never believed that if you're a great musician you'll make it. There are plenty of great singers and songwriters that don't succeed. I'm not a great singer, I have my own sound and always try to write from the heart and not follow the trends. We were at the right time at the right moment and all the boys were talented. It was the right combination as is now, it's the right combination. We do our own thing and if our music fans like where were coming from, God bless them, and many thanks. We'll give the fans our best shot on the new CD."
Dokken tour dates:
December
2 - Janus Landing - St. Petersburg, FL
3 - House Of Blues - Orlando. FL
4 - Culture Room - FT. Lauderdale, FL
Don Dokken solo dates:
December
8 - Ramona Mainstage - Ramona, CA
9 - Brixton - Redondo Beach, CA
10 - Coachhouse - San Juan Capistrano, CA