Drummer VINNY APPICE On Future Of HEAVEN & HELL - "If It's Going To Happen We Would Rename The Band; The Heaven & Hell Name Signified A Lot For RONNIE"
January 26, 2011, 9 years ago
BraveWords.com conducted an exclusive chat with BLACK SABBATH/HEAVEN & HELL drum legend Vinny Appice for an upcoming major feature. Appice talked about the sensitive topic of the future of Heaven & Hell - the band that also featured late singer RONNIE JAMES DIO, guitarist Tony Iommi and bassist Geezer Butler - which celebrated the Dio-era of the band. A few excerpts from the chat with BraveWords.com's Mitch Lafon can be read below: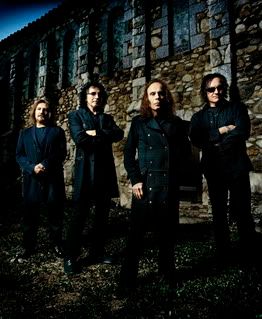 Bravewords.com: Is Heaven & Hell done or might you continue with guest singers?
Appice: "If it's going to happen we would re-name the band. The Heaven & Hell named signified a lot for Ronnie. It's Ronnie's era of Sabbath not Ozzy's and that's why we didn't call it Black Sabbath, so people wouldn't get confused about it. It would be funny to keep the name Heaven And Hell and for Ronnie not to be there."
Bravewords.com: Plus, there probably would be a backlash from the fans.
Appice: "Yeah, that too."
Bravewords.com: When do you think the band might continue?
Appice: "I'm not sure what they have it mind. It was mentioned, but no action has been taken yet. I would imagine that IF something happens – it would be this year. Tony loves playing. He's a musician and he loves to play. He was happy playing and being on stage (with H&H;). Geezer is the same way. We toured so much that we built ourselves up both musically and physically."
Stay tuned to Bravewords.com to find out who Vinny would like to see as the band's new lead singer…