EPICA Working Out 2013 Tour Schedule, Invite Fans To Take Part In Survey
August 22, 2012, 7 years ago
Dutch symphonic rockers EPICA have checked in with the following update:
"We're curious to know (as we're working on our tour schedule for 2013) where Epica should come and play in 2013. As many people ask for Indonesia, for example, we'd like to know how many fans we have over there. So start voting for your country if you want an Epica show. If your country is not in the list you can add it."
Go to this location to take part in the survey.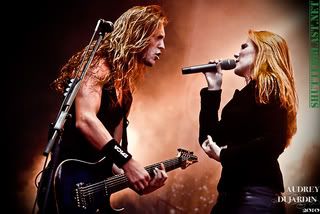 (Photo by Audrey Dujardin)
Epica recently announced a venue change for their upcoming South American tour. Originally slated to take place at Teatro Metropolitano, the band's September 22nd show in Bogota, Colombia will now take place at Downtown Majestic (capacity: 1,800).
Epica's South/Latin American tour schedule is now as follows:
September
16 - CIFCO - San Salvador, El Salvador
18 - Salon Porvenir De Los Obreros - Guatemala City, Guatemala
19 - Pepper's Club- San Jose, Costa Rica
21 - Teatro Universidad - Medellin, Colombia
22 - Downtown Majestic - Bogota, Colombia
25 - Teatro Flores - Buenos Aires, Argentina
26 - Teatro Caupolican - Santiago, Chile
28 - Via Funchal - Sao Paulo, Brazil
29 - Fundicao Progresso - Rio de Janeiro, Brazil
30 - Opiniao Bar - Porto Alegre, Brazil
October
2 - Teatro Plaza- Montevideo, Uruguay
3 - Club Sport Colombia de Fernando de la Mora - Asunción, Paraguay
5 - Auditorio Blackberry - Mexico City, Mexico