ETERNAL LEGACY - 'Seeking No Peace' Digital Single Released
April 24, 2012, 5 years ago
'Seeking No Peace', the new digital single from Cleveland, Ohio-based metallers ETERNAL LEGACY, is being released today via iTunes, Amazon and other major digital retailers. The song is the title track to the band's forthcoming studio album, which is due out this summer via Auburn Records. Single cover art was done by Larry Weber. Layout and design by Claudia von Bihl. The album was recorded, mix and mastered at Mercinary Studios in Cleveland and produced by Eternal Legacy vocalist/guitarist Jason Vanek.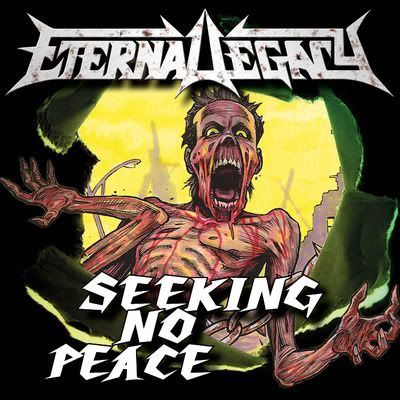 "At last, the new Eternal Legacy album is complete," says Vanek. "Here's a culmination of all our past efforts and influences. This track speaks for the whole album. We hope our fans enjoy it as much as we do. Cheers!"
The band has toured Germany twice, including appearances at the Wacken Open Air (2010) and Headbangers Open Air (2007) festivals, and released two previous albums on Auburn - The Coming Of The Tempest (2007) and Lifeless Alive (2009).
Eternal Legacy is (left to right in photo above - by Joe Kleon):
Jason Vanek - vocals/guitar
Shaun Vanek - guitar
Steve Dukuslow - drums
Tim Frederick - bass