Ex-BLOOD STAIN CHILD Vocalist Sophia Confirmed To Guest On New MEJIBRAY Single
December 8, 2012, 4 years ago
Former BLOOD STAIN CHILD vocalist Sophia, has issued the following update: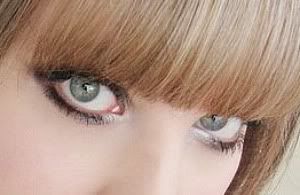 "The wait is over! I can finally unveil my first secret project and the magic word is MEJIBRAY. I know lots of you have been asking for a second collaboration, so there ya go! This time, I sang on Mejibray's upcoming single 'Die Kusse', in stores February 6th.
I just love working with effective people and MiA is one of them for sure. Fast with communications, very polite, and inspired when writing new songs.
It's always a pleasure working together. This time, I recorded in Greece, so we couldn't have fun in the studio like last time, but it was a fruitful experience nevertheless. Everything worked like a clock and we both liked the result.
I do hope you all enjoy the song as much as we did!"

For information on Mejibray go to this location.
Sophia issued the following statement with regards to her departure from Blood Stain Child:
"It's been almost two years since I joined BSC. I can't say time passed that quickly. Those two years, including almost one year of preparations, were full of work, creativity, constantly moving from place to place with countless airplanes, trains, buses along with my beloved suitcase and my best friend: myself.
It felt like going back to school. I studied hard indeed and I learnt many important lessons. No cheating, no copying from the person sitting next to you. Always with honesty and truth being my guides. It might sound like the most difficult way to choose in this industry, but I see it as the only way for me. This is why I came to the decision to leave the band, which I believe is for the best interest of both BSC and me.
There's been a lot of inevitable changes, which were beyond anyone's control, but which I believe were the catalyst that brought me to another level, both as a person and subsequently as an artist. It was a challenge that I gladly accepted in order to go to the next step.
I remember in the beginning, when I was asked to join the band, I was a closet musician who had never played with a band or gone on stage before. Although I was scared of failure, somewhere deep inside I knew I would make it in the end. Of course I had to push my limits every day and fight my personal demons one by one, but I believe that in the end I passed the exams.
This might have never happened, though, if it wasn't for everyone who believed and trusted me: the band, my friends and of course each and every one of you. I met lots of amazing people during this fantastic journey, I made many new and precious friends, together with everyone I created lots of unforgettable memories and I saw many places and lots of colourful, smiling faces. I honestly feel grateful, for all those memories, whether they involved smiles or tears. I believe everything happens for the best and evolution is the ultimate goal, in the end of the day.
The end...which is a new beginning, dressed as sadness sometimes. Let this be temporary, because bright days lie ahead! I'm sure all the members of BSC will never stop chasing their dream and nor will I.
Lastly, I would like to say sorry to all the fans and everyone involved for this sudden turn of events, but all of you who've been following me along the way, know that I'm not a person who gives up halfway through, or before I've done everything within my power. We shall meet again soon.
Thank you from the bottom of my alien heart.
Sending you lots of love and light."

Meanwhile, Blood Stain Child issued the following update earlier this week:
"With careful and thorough screening, Kiki has been selected to be the lead singer of Blood Stain Child. She has been performing as a singer/songwriter and actively involved with studio works and live scenes in various fields. What makes her so unique and talented is to be able to handle both clean voice and scream voice.
Some demos will be out soon hopefully soon for you to check out. We already can see your face going 'damn!'"