Ex-DIO Guitarist TRACY G Featured On New Right To Rock Podcast
March 12, 2012, 5 years ago
TheRightToRock.com has issued their latest podcast (episode #134), featuring guitarist Tracy G (TRACY G GROUP, ex-DIO), who discusses his band's latest CD, Controlled Chaos, as well as his upcoming book The Dio Years & Beyond The Skull. Listen to the podcast at this location.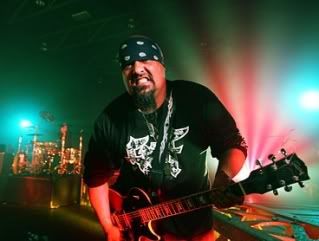 Tracy G recently announced that current HYDROGYN vocalist Julie Westlake has signed on to do a series of recordings with The Tracy G Group, for a release that will coincide with his book coming out in the spring. The release will be a collection of songs that he had written along with Ronnie James Dio for his two studio releases - Strange Highways and Angry Machines - along with a collection of material from his post-Dio material.
According to a press release, "The Tracy G Group have already entered the G Factory Studios and started on the project with a series of tunes close to completion. The band for the recording is Tracy's band that played on the 2011 Controlled Chaos, that has Johnny B on Drums and vocals and Eddie Frisco on Bass. There are also talks of live shows in the works for this to take place in the Los Angeles area this spring or summer. More details will be revealed soon."
Check out the The Dio Years & Beyond The Skull Promo Video below: