Exclusive: DOKKEN Mainman Don Dokken Explains Feud With George Lynch - "In The End We Did Some Great Records Together"
June 18, 2011, 7 years ago
Special report by Deb Rao
DOKKEN frontman Don Dokken has checked in with BraveWords.com regarding the band's legacy and addresses the ongoing battle with former guitarist George Lynch (LYNCH MOB, SOULS OF WE).
BraveWords.com: Since the news that the Dokken reunion is now not slated to happen, it seems that a whole can of worms has been opened regarding the tension that still prevails between you and George Lynch. Do you feel that it is best to take the high road regarding past differences with band members? In the end, it is all about the music anyway. Dokken has proved throughout the years that they are able to maintain their strong fanbase and still put out vital music through the hard times in the music industry.
Don Dokken: "It has always been frustrating to try to stay away from responding to the constant character bashing towards myself from George. When Breaking The Chains originally came out it was called Don Dokken on the European release since I didn't have a band. I hired Mick (Brown; drums) and George to play on the record, and even though Juan Croucier's (ex-RATT) picture appeared on the record, Peter Baltes from ACCEPT actually played bass on the record. By the time I returned to the US I started looking for a permanent group. By then Juan was playing with Ratt and George was close to landing the guitar spot in OZZY, then the record began to take off in Europe, we did a show case with Warren DeMartini on guitar at the Whiskey and I thought that would be the final lineup but the labels passed so everything fell apart, Juan and Warren joined Ratt and there was only Mick and myself left. We were then contacted by Cliff Bernstein who managed DEF LEPPARD and Q Prime, he had found Breaking The Chains in an import store and liked it. We were offered to do a show case at the Roxy opening for MÖTLEY CRÜE; so I asked Juan and George if they would do it to help me out. After the showcase we were signed and dropped three times on Elektra because of changes at the label. At that time Tom Zutaut was just working in the singles department, he believed in the record and kept pushing for us as well as Cliff. Eventually we were offered a last chance showcase and landed a deal. Unfortunately Ratt's EP began to take off so Juan was out. We needed a bassist, and we still didn't have a guitarist. I called Mike Varney and he recommended Jeff (Pilson; bass) who was playing in a top forty band in a bar with Amy Cannon who eventually became one of the back ground singers in Mötley Crüe. We were then offered a tour with BLUE ÖYSTER CULT and ALDO NOVA. It all sounded great, I was excited we would be playing in arenas but had reservations about George. We had never got along even
when making BTC, Jeff fit in perfectly and my management convinced me to bring George on board. I was still playing guitar at the time but George was obviously a great guitarist. We did a quick low budget video and as you'll see in the video I was still playing guitar. It was a two-guitar band until Tooth And Nail. I was then asked to become just the frontman, which was hard, I had always played guitar and sang so it was a hard transition to stop playing. But it gave George more freedom to become the great guitarist he turned out to be. Even though George and I were always at odds from the beginning as to the direction the band should go. In the end we did some great records together. Some people believe our tension made our records better.
But I don't agree!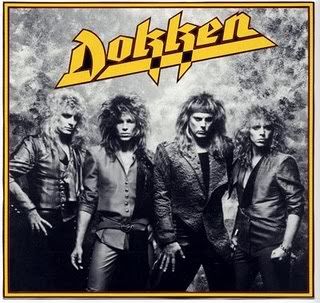 Jeff was always the unsung hero in the band; he worked with George on his riffs and with me with the lyrics, since George and myself couldn't seem to work together. Jeff was the sane one that kept it going forward. Since he was a multi-talented singer, guitarist and wrote great lyrics as well he somehow kept us all together. We became a band even with all the tension. Even though I had landed the record deals both in Europe and the U.S. on my own, I decided to split everything evenly. I thought it would make everybody happy and ease the tensions between George and myself but they never went away. It's unfortunate. When we reunited in 1995 I thought we had all grown enough to put the squabbling behind us, but if you watch our first concert back together on DVD One Night Live, it was already obvious we were in trouble. You can see that George ignored the three of us the entire show. So we made the best of a bad situation until it was impossible to go on, fortunately Reb Beach (WHITESNAKE, WINGER) stepped in after George left yet again and I think it was a great record with the classic Dokken sound. The rest is history, when Jon Levin finally joined the band a few years later it was the shot in the arm the group needed. We get along great, have fun every time we step foot on stage and it shows in our performances, life is good and we hope to continue the Dokken legacy. I hope you all have a great time at a Dokken concert, we appreciate you all and hope to continue to give you the best music we can peace."