FIREWIND - After The Scream...
May 22, 2012, 7 years ago
By Carl Begai
You have to respect FIREWIND guitarist Gus G. for remaining true to his original vision for the band even though he's won a career-altering jackpot as OZZY OSBOURNE's right hand man. Granted, he launched the band in 1998 as a project and spearheaded the writing and recording of seven albums since then, but Gus wouldn't be the first artist to abandon long term goals for a once-in-a-lifetime opportunity.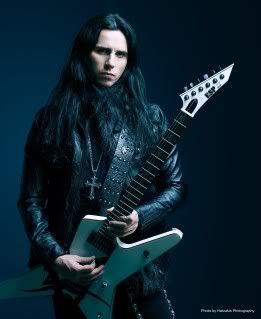 To his credit, Gus isn't stupid either. Having been a member of the Osbourne camp since 2009 and having recorded and toured for Ozzy's 2010 album, Scream, that notoriety led to the decision to book Firewind's first ever North American headlining tour for Fall 2011 in support of the Days Of Defiance record.
"It was an experience," Gus laughs. "Times are tough everywhere, let's face it, so I didn't really expect to have sold out arenas or anything. We did small clubs, we did it on the back on an album that was a year old, but the reason we chose to do it at that time was to capitalize on the hype that I got and re-introduce the band. We wanted to go out there and see who our fans are and what was actually happening with Firewind in the US. I've got to tell you, things look positive. For a first headline tour we did really well and I think it can only grow from here."
"Of course there were better shows than others as far as attendance, but that depends on the places you hit and the days that you hit them. And Canada was awesome; you guys love your heavy metal. We didn't play Toronto, but we played Ottawa, which was one of the best shows of the tour. It was like a festival in a club with two floors and some local bands playing. It was fucking amazing. Montreal was great, and that's always a good place for us. We even went out west and played Kelowna, British Columbia (laughs). That day was funny, and it was one of the misfortunes of the tour. We had some weird promoter that moved the show around a few times, and we ended up playing a bowling alley. But hey, what are you gonna do? (laughs)"
Firewind's brand of metal has never been rocket science. Gus has always steered the band in a traditional metal direction – dubbed power metal by the press and fans along the way – and Few Against Many carries on this tradition. Even so, for all the heard-it-before birthmarks to be had, the new album offers up much more diversity than expected.
"I think the last three Firewind albums had the same style or vibe," Gus agrees. "I still love Days Of Defiance but it didn't really differ from the previous two, so when people asked me what was different about it my answer was 'Nothing' (laughs). The point with that album was to really establish our sound; you hear one song and you know it's us, not some other band. Few Against Many is different. We're re-defining our sound, digging deep and finding the cool things that Firewind should do a little more of. I also wanted to try different things, like beats and grooves that we'd never done before. The song 'Another Dimension' is a good example of that because it has a thrash metal feel to it. Or a song like 'Losing My Mind', which has more of a grunge feel to it."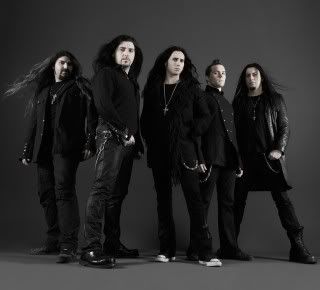 "It's definitely different," he continues. "There's more guitar and less keyboards, and I think it's probably our best production to date. It sounds really tight and solid, and it sounds a bit more American… maybe because we mixed the album in the States with producer Jason Suecoff (DEATH ANGEL, TRIVIUM, ALL THAT REMAINS)."
It's fair to assume that Gus' experience being part of Ozzy's band rubbed off on his writing for Few Against Many but he insists that wasn't the case. Not on the musical front, anyway.
"Firewind because it's such a different animal compared to Ozzy. The way it influenced me wasn't really on the musical front, but more in the way that I did a lot of inner searching while I was out on the road with Ozzy. I was wondering what's so special about me, why was I there? It was a natural thing, I guess, maybe because I turned 30 and started freaking out about it (laughs). I was questioning what the best qualities of me as a guitar player are, because Ozzy must have seen something special in me if he asked me to join his band. I went back and practically re-learned everything when I was practicing Ozzy's stuff. I think that part of it influenced me to bring more of my own identity and my own sound into this. That's probably why it's a more guitar oriented record."
"You mentioned the diversity on the album, and you wouldn't believe it but this is the first album after many years that's primarily just my writing (laughs). The song 'Another Dimension' I wrote with Bob Katsionis (keyboards, guitars) and obviously the ballad has Bob's influence, but besides that the rest of the album is just my stuff. That kind of happened because I was out with Ozzy and had all these song ideas, so during the tour break I just put all those ideas down into demos, and at the end I had six or eight songs. I started sending the other guys in the band my stuff and told them 'Hey, the album's almost done' (laughs)."
Essentially the perfect way to sabotage your own band, particularly after praising the benefits of working together as a unit for the previous couple records…
"I felt very inspired and motivated, so I explained to them that I wanted to be a bit more in control of the record if they didn't mind. Of course I needed their input, but I just felt that if I did the record the way I wanted to do it that it would be the fucking bomb. I think too many people got involved in the writing on the last record, and I think it's impossible to please everybody in the band 100% of the time. The other guys were involved, but I was in the lead on this record without any distractions."
Gus is no stranger to dividing his time between bands, having been a member of DREAM EVIL, MYSTIC PROPHECY, ARCH ENEMY and NIGHTRAGE at different points over the course of his career. Firewind remained his top priority through it all and is still front and center, but he makes no bones about the fact that he's on call for Ozzy at a moment's notice. Not only that, Gus confirms that he's been working on new material for Ozzy's next album even though no concrete plans have been laid out for it as yet.
"Both Ozzy and Sharon (Osbourne) told us that they want us to keep working and writing new stuff, and eventually we'll get together and do this. We just need to see what's going to happen with BLACK SABBATH, because it's pointless to say 'Oh, in 2013 we're going to do this and that with Ozzy.' That's not how it works in that camp. We need to give them time and see what's going to happen. I'm always on standby for Ozzy. I have lots of ideas, lots of riffs, me and Ozzy wrote some stuff on the road together, I've made new demos since then, so it's just a matter of him putting in the call and I'm there."
Although Gus discusses Ozzy with the air of familiarity reserved for a friend more than an employer, you have to figure he still has "pinch me" moments. After all, he's living out ever metal shredhead's dream.
"Every single day," he laughs. "Every single fucking day. It's insane. I'm pretty sure if you ask ZAKK WYLDE about it now – and he's seen and done it all – he'll probably tell you the same thing. It's an unbelievable experience. Just the fact that I've gotten to that level and I actually get to play the Bible (laughs), it's surreal."
Add to this the fact that the fans have (finally) accepted Gus as Zakk's replacement and he's able to hit the studio, get on stage and enjoy the ride when the time comes without having to worry about filling someone else's shoes.
"I think his fans realized pretty quickly that I'm one of the good guys, and that I'm as much of a fan as anybody else," says Gus. "I would never want to make anyone look bad and I do my best on stage. Ozzy's fans have been supportive and they've shown me a lot of love. Ozzy told me himself 'Since Randy Rhoads, you're the only guitarist in the band that's never had shit thrown at him. You should have seen when Jake E. Lee joined.'"