Former JUDAS PRIEST Guitarist K.K. Downing - "There Has Been An Ongoing Breakdown In Working Relationship Between Myself, Elements Of The Band, And The Band's Management For Some Time"
April 21, 2011, 8 years ago
Former JUDAS PRIEST guitarist K.K. Downing has issued the following press release:
"Dear friends,
It is with much regret that I will not be with you this summer. Thank you all from the bottom of my heart for your concerns about my health. Please rest assured that I am O.K.
There has been an ongoing breakdown in working relationship between myself, elements of the band, and the band's management for some time.
Therefore I have decided to step down rather than to tour with negative sentiments as I feel that this would be a deception to you, our cherished fans.
However I would urge you to please support the Priest as I have no doubt that it will be a show not to be missed.
All my love and respect."

Judas Priest announced yesterday that original guitarist K.K. Downing has formally retired from the band.
According to a press release, "he will therefore not be joining them on their forthcoming Epitaph Tour. The band respect his decision and naturally all wish him well. Having thought long and hard about how to proceed, singer Rob Halford, guitarist Glenn Tipton, bassist Ian Hill and drummer Scott Travis unanimously agreed that they should go ahead with the tour and not let fans around the world down.
Fate also stepped in and delivered the perfect replacement - 31 year-old British guitar player Richie Faulkner (pictured below; DIRTY DEEDS, VOODOO SIX, LAUREN HARRIS) - he has blended into the band perfectly and is a great talent who is going to set the stage on fire, according to a press release.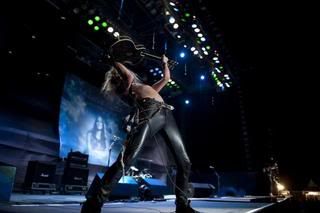 The Epitaph Tour will include songs from every Priest studio album and also tracks that they have never before performed on stage plus all the old favourites.
With a new album due to be released next year, the 'metal gods' are preparing to tour the planet once more. Heavy metal at it's best complete with lasers, lights, bikes and hellfire! It's a show not too be missed!"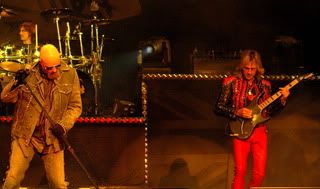 Judas Priest Epitaph tour dates:
June
7 - Eindhaar - Tilburg, Holland
9 - Sweden Rock - Solvesborg, Sweden
11 - Sauna Festival - Tampere, Finland
14 - Spektrum - Oslo, Norway
15 - Edward Greig Plass - Bergen, Norway
17 - Copenhell Festival - Copenhagen, Denmark
19 - Hellfest - Nantes, France
20 - Le Zenith - Paris, France
22 - Gods of Metal Festival - Milan, Italy
23 - Sonisphere Festival - Switzerland
25 - Graspop Festival - Dessel, Belgium
27 - Zenith - Munich, Germany
28 - O2 Arena - Prague, Czech Republic
29 - Stadthalle - Vienna, Austria
July
1 - Belgrade Arena - Belgrade, Serbia
3 - Romexpo - Bucharest, Romania
5 - Water Park, P Faliro - Athens, Greece
8 - Akademik Stadium - Sofia, Bulgaria
10 - Kazlicesme Festival Site - Istanbul, Turkey
July
6 - Kautatzogleio Stadium - Thessaloniki, Greece
15 - Newport Centre - Newport, UK
16 - O2 Apollo - Manchester, UK
17 - The Dome - Doncaster, UK
19 - SECC - Glasgow, Scotland
20 - Metro Arena - Newcastle, UK
21 - Civic Hall - Wolverhampton, UK
23 - High Voltage Festival - London, UK
24 - BIC - Bournemouth, UK
July
27 - Atlantico Pavillion - Lisbon, Portugal
29 - Coliseum - La Coruna, Spain
30 - La Cubierta - Madrid, Spain
31 - Bec - Bilbao, Spain
August
2 - Badalona - Barcelona, Spain
5 - Wacken Open Air - Wacken, Germany
7 - Colmar Wine Festival - Colmar, France
9 - O2 World - Berlin, Germany
10 - Metal Hammer Festival/Spodek - Katowice, Poland
11 - Sziget Festival - Budapest, Hungary
September
10 - Portuguesa Stadium - Sao Paulo, Brazil
11 - Citibank Hall - Rio De Janeiro, Brazil
13 - Chevrolet Hall - Belo Horizonte, Brazil
15 - Nilson Nelson - Brasilia, Brazil
30 - Mexico City Sports Palace - Mexico City, Mexico
October
1 - Telmex Theater - Quadalajara, Mexico
3 - Banamex Theater - Monterrey, Mexico