FOZZY Guitarist Rich Ward Working On New Material - "My Gut Feeling Is That It Will Be The Best Overall Album That I Have Been A Part Of"
February 9, 2012, 8 years ago
Guitarist/vocalist Rich Ward (FOZZY, STUCK MOJO) has checked in with the following:
"I haven't given a lot of Fozzy studio updates because I don't want my enthusiasm to be interpreted as big headed gum bumping. For those who are interested in our progress, let me just start with a quick update.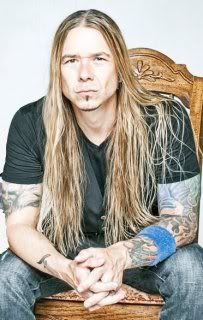 Chris (Jericho/vocals) wrote the bulk of the lyrics months ago, but he has given me updated lyrics as I have needed them, some as recently as last week. I have been working on rough song ideas for last few months, some basic song structures were recorded out on the road last fall with a portable studio set up in the back lounge of the bus, and other ideas more crudely captured by the recorder in my phone. So far all the songs written for the album have been recorded in a rough demo form. Drums have been programmed, scratch guitars have been recorded, and a lot of the vocals have been sketched out.
For the last few weeks our drummer Frank has been relentlessly rehearsing the new album material at our practice space in downtown Atlanta. Next week we officially move into the studio where we start tracking drums.
Now to the big headed gum bumping. Based on the songs and the early demos, my gut feeling is that when this album is completed, it will be the best overall album that I have been a part of.
It takes a lot of time and effort from so many people to make a record and then get it on to the shelves of your local music store. But all of us involved know that without the band's supporters, making these records wouldn't even be possible. So for that gift, we are so grateful, and thank you from the bottom of our hearts."

BW&BK; scribe Carl Begai recently caught up with Ward. An excerpt from the story is available below:
In January 2010, Fozzy – the side-project turned full scale war machine featuring Stuck Mojo guitarist/vocalist Rich Ward and vocalist/wrestling star Chris Jericho – released their fourth studio album, Chasing The Grail. Amongst the guest musicians that appeared on the record was ANNIHILATOR guitarist Jeff Waters, who laid down solos for the tracks 'Martyr No More' and 'God Pounds His Nails'. Waters is no stranger to lending out his talents to projects he feels are worthy of time spent, and although it's a no-brainer finding Ward and Jericho on that list, it's still a big deal when Waters agrees to enter the picture and add his brand of shred to the canvas.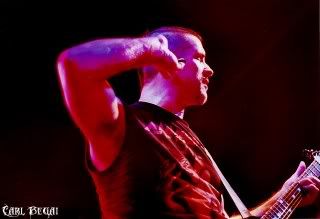 "That was the coup of ages, man," laughs Ward. "I asked Chris if he was okay with having a guest guitar player or two on the album. We did it on the previous one (All That Remains from 2005), and it was cool having Marty Friedman (ex-Megadeth) and Zakk Wylde (Black Label Society) come in and lay down their stuff. For me as a fan of those guys it was just cool. Chris asked me who I had in mind for Chasing The Grail, and I gave him three or four names. He balked on all of them except for Waters (laughs), and he suggested that instead of having a bunch of guest guitarists, that we have just one killer guitar player come in and tear it up. I'm not lacking confidence in my lead playing, but I know who I am as a lead player, and I ain't Jeff Waters (laughs)."
Click here for more.
As previously reported, Fozzy have re-released their debut live album Remains Alive digitally via Riot Entertainment. Fozzy recorded Remains Alive in Brisbane on their Fozzy In Aussie tour of Australia in 2005 on the back of the All That Remains album.
The line up on that tour was Chris Jericho (vocals), Rich Ward (guitar, vocals), Sean Delson (bass), Mike Martin (guitar), and Frank Fontsere (drums). The album can be purchased now via iTunes.
The tracklisting for Remains Alive is as follows:
'Nameless Faceless'
'Don't You Wish You Were Me'
'Daze Of The Weak'
'Wanderlust'
'Crucify Yourself'
'End Of Days'
'Freewheel Burning'
'Eat The Rich'
'Ignition'
'Feel The Burn'
'With The Fire'
'To Kill A Stranger'
'Enemy'
Also, Fozzy have commenced writing for the follow up to Chasing The Grail.
(Photo of Jeff Waters by Carl Begai)