FOZZY's Tour Bus Trashed; Tonight's Denmark Date Cancelled
July 12, 2011, 6 years ago
FOZZY frontman Chris Jericho has issued the following Twitter update:
"Last night as I was riding on the ANTHRAX bus, Fozzy's bus was in an accident. The band is OK, thank God, but the bus is trashed so we won't be able to play the show in Denmark tonight. Hamburg is still on for tomorrow. Its a miracle nobody got hurt, as the bus skidded on two wheels for 50 feet and the side door was completely torn off. Say a prayer for the boys and stay tuned for more info. Now I'm on a train from Aarhaus to Hamburg with nothing but a toothbrush and a pair of flip flops. Could be worse..."
Check out a photo of Fozzy's bus below. Says Jericho: "Note the lack of front door... The undercarriage is just as bad!"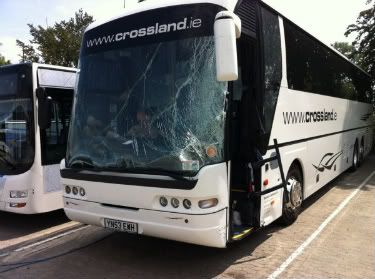 Fozzy, also featuring STUCK MOJO's Rich "The Duke" Ward, will released the Remains Alive & Chasing The Grail two-CD set on July 1st via Edel Records.
The tracklisting is as follows:
Disc 1
'Under Blackened Skies'
'Martyr No More'
'Grail'
'Broken Soul'
'Let The Madness Begin'
'Pray For Blood'
'New Day's Dawn'
'God Pounds His Nails'
'Watch Me Shine'
'Paraskavedekatriaphobia (Friday The 13th)'
'Revival'
'Wormwood'
Disc 2
'Nameless Faceless'
'Don't You Wish You Were Me'
'Daze Of The Week'
'Wanderlus'
'Crucify Yourself'
'End Of Days'
'Freewheel Burning'
'Eat The Rich'
'Ignition'
'Feel The Burn'
'With The Fire'
'To Kill A Stranger'
Rich Ward caught up with BraveWords.com recently and talked about the band's future: "We're off to Europe in three weeks and the tour is selling great. It's been one of those things for us, for a number of years, as we've talked about before. Fozzy has been at the mercy of Chris' wrestling schedule, and I've always worked my projects, other projects, outside projects, around Fozzy, because I recognize that with so much limited time to allocate to the band, you know, working with Chris being my kind of creative partner in the band, I've always prioritized it, realizing that if I don't prioritize it when he's available, it just won't happen. And so he's now been off wrestling for several months now, but I think he'll go back."
Read the entire interview here.