Free Compilation Download Available In Support Of CRIMSON SHADOWS Album Launch
January 27, 2012, 7 years ago
Blacktooth Entertainment has unleashed a free download compilation in support of CRIMSON SHADOWS upcoming album launch, on Saturday, February 11th at The Hard Luck Bar in Toronto, ON, for their debut full-length album, Glory On The Battlefield.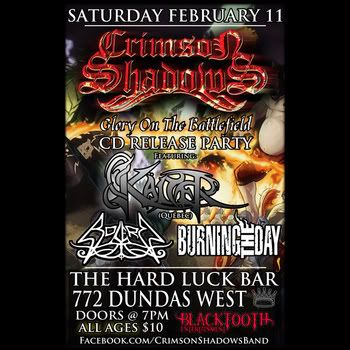 The download features the following tracks:
Crimson Shadows - 'Beyond The Mountain Wasteland'
Crimson Shadows - 'Kingdom Of Ale'
KALTER - 'Ashes'
Kalter - 'Of Tears & Blood'
BOLERA - 'Pints Held High'
Bolero - 'O' Hail To The Northlander'
Bolero - 'When The Legends Die'
BURNING THE DAY - 'Kill'
Get it at this location.
Death and power metal are not two genres that are often mixed. In fact, it's almost unthinkable. But for Toronto, ON-based Crimson Shadows it's all about ignoring convention and developing new sounds.
Combining the guttural screams and blast beats of death metal with epic guitar harmonies and choruses signature to power metal, Crimson Shadows recorded their mind-shattering debut at Shatterpoint Studios at the end of 2011 and are finally ready to unleash it on the masses.
"I'm really happy about releasing this album because so much has gone into it. The speed, technicality, and the sheer brutality are some things that I'm really proud of on this album. We feel that we've finally found our own sound and we can bring something unique to the heavy metal table that hasn't been done before", commented Crimson Shadows vocalist Jimi Maltais.
Quebec's Kalter, Toronto's folk metallers Bolero and Burning The Day will be joining Crimson Shadows for a CD release show and party of epic proportions only suitable for a band ballsy enough to fuse death and power metal.
Check out a Glory On The Battlefield teaser below:
Tracklisting:
'Glory on the Battlefield' (intro)
'Battle Hard
'Beyond the Mountain Wasteland'
'For the Glory of the Throne'
'Kingdom of Ale'
'Quest for the Sword'
'Lost in a Dark Forest'
'Journeys End'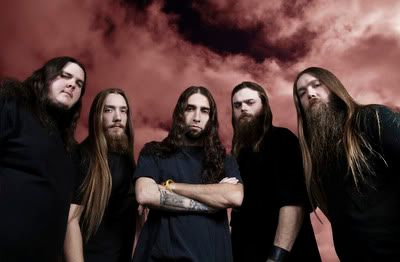 Further details on the album launch event can be found at this location.