GENE SIMMONS On Delayed Release Of KISS' Monster Album - "Just Because You Have A Lot Of Ammunition Doesn't Mean You Have To Shoot Your Wad Right Away"
July 27, 2012, 2 years ago
RollingStone.com's Dan Hyman reports: It's been just shy of four decades since KISS released their eponymous debut album. But as Gene Simmons says, the hard rock titans – who are set to drop their 20th studio album, Monster, on October 16th – are still firing on all cylinders. "The band is more focused than ever," Simmons tells Rolling Stone. "The weather looks great for the band – reinvigorated, redefined, refocused and reborn." While Simmons and lead singer Paul Stanley remain the band's only original members, Monster marks the second consecutive KISS record, following 2009's Sonic Boom, created with a lineup that includes drummer Eric Singer and lead guitarist Tommy Thayer. Simmons insists the new album ranks up there with some of the notoriously outlandish crew's finest work. "If this was a first record by a new band, I'd be floored," he says.
Monster was recorded at studios in and around Los Angeles and, like Sonic Boom, was co-produced by Stanley and Greg Collins. Though it has been finished for a few months, the bassist and perennial self-promoter says there was no point in rushing out something this epic. "Just because you have a lot of ammunition doesn't mean you have to shoot your wad right away," he says. "You have to pace yourself." Monster itself does not pace itself: it's a full-on aural assault, from the first note of the opening track and lead single, 'Hell Or Hallelujah' ("I rode the highway to heartache/ I rode the ship of fools" ) to the appropriately titled 'Wall Of Sound', a barn burner anchored by a snaking guitar lick. The album doesn't let up until Stanley lets out a final jarring wail on 'Last Chance'. "If you like guitars and drums, this is right up your alley," Simmons explains. "Which is better than right up your ass. It's relentless til the end. We're not doing thrash. We're not doing any of that stuff. It's straight meat and potatoes. No messing around. And no ballads, no string choirs, no little boys doing a cappella, no eunuchs singing background." Simmons adds that Monster is less intricate than their classic 1976 album Destroyer, and that it hearkens back to the band's first three records. "Destroyer was a more produced studio record," he explains. "To reproduce Destroyer live, we would need keyboards. We love that, but it's more produced material." Read more
here
. On July 21st, KISS performed their new song 'Hell Or Hallelujah' at Farm Bureau Live in Virginia Beach, VA. Fan-filmed video is available below: KISS and Mötley Crüe are currently on the road together for The Tour. The schedule is now as follows: July 27 - Cruzan Amphitheatre - West Palm Beach, FL 28 - 1-800-ASK-GARY Amphitheater - Tampa, FL 31 - Oak Mountain Amphitheatre - Pelham, AL August 1 - KFC Yum! Arena - Louisville, KY 3 - Cynthia Woods Mitchell Pavilion - Woodlands, TX 4 - Gexa Energy Paviliion - Dallas, TX 5 - AT&T Center - San Antonio, TX 7 - Hard Rock Casino Presents: The Pavilion - Albuquerque, NM 8 - Comfort Dental Amphitheater - Englewood, CO 10 - Ashley Furniture Home Store Pavilion - Phoenix, AZ 11 - Mandalay Bay Arena - Las Vegas, NV 12 - Cricket Wireless Amphitheatre - Chula Vista, CA 14 - Verizon Wireless Amphitheater - Irvine, CA 15 - Shoreline Amphitheatre - Mountain View, CA 16 - Sleep Train Pavilion - Concord, MA 18 - White River Amphitheatre - Auburn, WA 19 - Sleep Country Amphitheater - Ridgefield, CT 24 - Rock Jam Grand - Junction, CO 26 - BOK Center - Tulsa, OK 27 - Verizon Wireless Amphitheatre - Maryland Heights, MO 29 - Minnesota State Fair - Minneapolis, MN 31 - Riverbend Music Center - Cincinnati, OH September 1 - Klipsch Music Center - Noblesville, IN 2 - First Niagara Pavilion - Burgettstown, PA 4 - Bridgestone Arena - Nashville, TN 5 - DTE Energy Music Theatre - Clarkston, MI 7 - First Midwest Bank Amphitheatre - Tinley Park, IL 8 - Alpine Valley Music Theater - East Troy, MI 11 - Allegan County Fair - Allegan, MI 12 - Blossom Music Center - Cuyahoga Falls, OH 13 - Molson Amphitheatre - Toronto, ON 15 - Darien Lake PAC - Darien Lake, NY 16 - Comcast Center - Mansfield, MA 18 - Toyota Pavilion - Scranton, PA 19 - Susquehanna Bank Center - Camden, NJ 21 - PNC Bank Arts Center - Holmdel, NJ 22 - Nikon at Jones Beach - Wantagh, NY 23 - Comcast Theater - Hartford, CT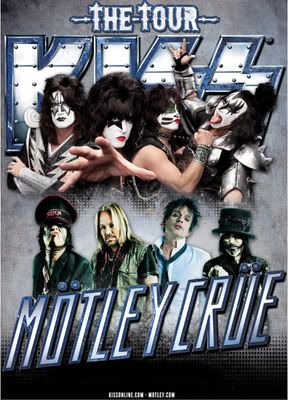 KISS will return to Mexico for shows in Mexico City and Monterrey. MÖTLEY CRÜE will join KISS at the Mexico City stop only.
Dates include: September 29 - Mexico City, Mexico (with Mötley Crüe) October 1 - Monterrey, Mexico (KISS only) Stay tuned to
KISSOnline
for additional information, including the KISS Army Members' only ticket pre-sales for these shows.