GEOFF TATE On QUEENSRŸCHE's Operation: Mindcrime - "It's Not What One Would Consider Metal By Today's Standards At All"
November 7, 2012, 4 years ago
Vocalist Geoff Tate (QUEENSRŸCHE) is featured in a new interview with ArtistDirect.com discussing his new album, Kings & Theives, and his former band. An excerpt is available below:
Q: When did you decide to name the record Kings & Thieves?
Tate: "Well, it was a working title for a piece of music that never got put together. I always liked the title, and I kept tracing it on my notepad. Anthony Clarkson, who designed the album artwork, came to me with a beautiful rendition of my family crest for the cover. I loved it. He left that little scroll at the bottom. I looked at it on my computer, and I glanced down at my notepad. I saw 'Kings & Thieves' scribbled there. I thought, 'That's the name of the record.'"
Q: Was there any connection to your fist solo record?
tate: "Well, it has been a long time. It's been a long time coming too. They're two really different records to me. On that first solo record, I really wanted to stretch outside of the Queensrÿche box and do everything I could never do. I wanted to explore my influences in my writing. That first album has R&B; influences, which I'm very into. It's got classical and electronica influences, but it doesn't have a lot of rock. Kings & Thieves is really a rock record. I focused on that aspect."
Q: What's the first thing you think of now when you think of Operation: Mindcrime?
tate: "It's interesting. It's not our most popular record as far as sales go, and it didn't really sell well when it came out. For a year, it sold exactly what our other albums had sold. Then, when Empire came out, it made a huge impact on radio. It got a lot of airplay. There were a few singles on that record. So, the sales for Operation: Mindcrime started skyrocketing as a result. I have to say the first thing that pops into my head when you bring up Operation: Mindcrime is 2013 is the 25th anniversary of that record. Isn't that hard to believe? It's a very melodic record. It's not what one would consider 'metal' by today's standards at all. It's melodic hard rock. It's not a political story. It's a love story between a man and a woman."
Go to this location for the complete interview.
Tate's new solo album, Kings & Thieves, was released on November 6th in North America. Watch the video below:
Audio samples of all tracks featured on Kings & Thieves are available via Amazon.de. Click here to check them out.
Kings & Thieves will be Tate's first solo album in more than a decade, and his debut release for InsideOut Music. The album is available for pre-order via Amazon.com using the widget at the bottom of the page.
As one of the most well-known and respected vocalists in the history of hard rock and heavy metal, Geoff Tate has sold over 20 million records and received four Grammy nominations.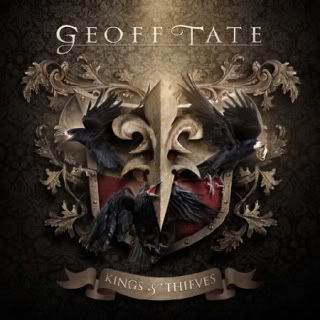 Tracklisting:
'She Slipped Away'
'Take A Bullet'
'In The Dirt'
'Say U Luv It'
'The Way I Roll'
'Tomorrow'
'Evil'
'Dark Money'
'These Glory Days'
'Change'
'Waiting'