GLENN HUGHES - "My Main Focus Is Keeping BLACK COUNTRY COMMUNION As A Brother-Ship, A Tribe, A Community And To Keep This Thing Going"
March 17, 2011, 7 years ago
By Mitch Lafon
Singer and bassist, GLENN HUGHES, has been rock royalty for over forty years. He's fronted such legendary bands as BLACK SABBATH and DEEP PURPLE, but it's his current band BLACK COUNTRY COMMUNION - also featuring drummer Jason Bonham (LED ZEPPELIN), keyboardist Derek Sherinian (ex-DREAM THEATER) and blues rock guitarist JOE BONAMASSA - that has him spreading the gospel of rock 'n roll these days. BraveWords.com recently caught up with the rock icon to discuss all things BCC and beyond.
BraveWords.com: You've been Tweeting about the new Black Country Communion recordings. What can you tell me about the new music and when will the album be released?
Glenn Hughes: "No matter what walk of life you're in, it's really difficult to explain to someone that hasn't heard or seen something… You can be conceived as being arrogant or self-centered, so it's difficult for me to tell you what the album's like because I don't want to come off as being big mouthed. The matter of the fact is that if you're reading my stuff (Tweets), you'll know I'm very excited. The great news about this one Mitch is that when we finished last one, we knew we were going to make another one. I've kept BCC on the front burner and I had more time to write. I've been writing since last May and I've come in with a lot of songs for the band – not for Glenn Hughes solo. The difference between this and the last one is that there was more time to write. It's heavier than the first one. It's darker than the first one. It's the same blueprint and components as the first one, but just a bigger brother."
BraveWords.com: Were you surprised by the success of BCC? It was intended to be a supergroup, but really became a band. Were you surprised at the chemistry between the four guys?
Hughes: "I'm a firm believer in fate, karma and synchronicity in any walk of life. With me being the 'elder statesman', I knew when we put this together (Joe and I)… I've worked with all major guitar players except Jimmy Page (LED ZEPPELIN). So, if I form a band with a guitar player 'A' – he's going to have to be very very talented, 'B' he'll have to be a real nice guy (and that's difficult with guitar players)… I knew Joe's work ethic and I knew I could sit down with him and make something happen."
BraveWords.com: You've been a solo artist for quite some time now. Why at this point in your career did you want to get back into a band situation?
Hughes: "It is a band, but you know I've been deemed… I'm the guy that writes most of the songs. If I had my druthers, I'd like to get together with Joe for about three months before we start because that's where the music really comes from – the other components are, of course, Jason and Derek. Although, Joe and I write it, we bring it in and work it as a band. We kick it around as a band – the four members (with producer Kevin Shirley being the fifth). I definitely don't write songs for GH. I think 'what would Derek be good at here or what would Jason be good at here'… Songs to me, at this time in my life, are so important. Song writing is the key to the center of my universe. Lo and behold, I don't have any say in the matter. I do it 365 days in a year. I'm in the studio or on the tour bus – I've always got something recording. That's what I do – all the time. The beauty of BCC is that the songs are a step forward from the first one."
BraveWords.com: When you say a step forward – is it because the second one is more of a band collaboration?
Hughes: "It's definitely a band project. There are four members here – all equal partners and Kevin, of course, is our fifth member. This band is five brothers. We have the same agenda and we have grown in the last year and a half. We realized really how much of a great band this band is. Not just for us, but for rock 'n roll in general. There hasn't been a band like us in quite a while."
BraveWords.com: Are you going to stop doing Glenn Hughes solo or will you try to do both (solo and BCC)?
Hughes: "I'm concentrating on the good ship BCC. Simply because I've being doing solo for seventeen years, I've made a lot of albums and toured all over the world. Here's the kicker Mitch – I'm writing so much for BCC. I'm writing all the time. Obviously, we're going to make a third record next year, so all I'm concerned about is getting the right amount of decent music… hard working rock 'n roll songs for our band."
BraveWords.com: You just mentioned that you'd like to make a third album next year. That work ethic is a throw back to the old days of tour, album, tour, album… In the last decade or more, people have gotten away from that. It's become album, tour, takes four years off…
Hughes: "As you know, I'm a child of the '60s with THE BEATLES releasing an album every six months and same for THE KINKS and THE WHO… That's because there was no agendas about them. They wrote the songs and they wanted to go play. I write all the time and I like the way Prince goes and writes and plays. He's done six albums in a year or something. It's all about the tour now. Before you're financial reward came before with selling CDs and merchandising… now it's all about touring. That's where people can make a living and that's where I, personally, need to play more shows. I've made a lot of music, but now I want to play play play play. I also want to play in a band that I believe can go all the way."
BraveWords.com: And that's BCC.
Hughes: "This is BCC. I'm not thinking about working with anyone else. My office gets calls all the time to work with this guy or that producer, but what I want BraveWords.com fans to know is that my main focus is keeping BCC as a brother-ship, a tribe, a community and to keep this thing going. Joe is really into this band thing and you'll see Joe giving BCC more time because we have a plan here Mitch. We have things working behind the scenes that are a nice surprise and we've got things set up where we will announce things shortly. We want to go and play everywhere with BCC. Obviously, America and Europe are the jewels of the crown."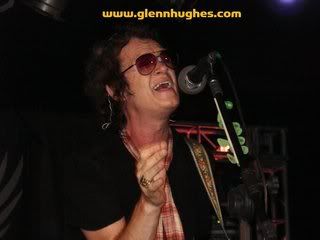 BraveWords.com: Musically for BCC – do you stay in the hard rock vein or do you see the band becoming more experimental?
Hughes: "I can tell you this – Derek is more featured on this one and it's more majestic. There's more orchestration and more majesty on this one. It's a heavy record and there's some great blues tracks on it too…"
BraveWords.com: For the traditional hard rock fan – consistency in sound, consistency in logo, and consistency in artwork are very important…
Hughes: "It'll stay the same. I can tell you right now – I'm working on the logo and we are not changing the logo. We're keeping the logo and we really like the logo. The second album will be called, Black Country Communion 2, and we're going to keep that logo. We have a blueprint. We have a rock 'brand' now. We have a rock fan base."
BraveWords.com: So, you're not running off to make the next QUEEN – Hot Space album anytime soon?
Hughes: "We talked about doing an acoustic track with maybe Derek on keys without drums, but we went – 'No, wait. Let's just wait here. Let's really establish that we are a rock band without being in any way shape or form false. The music you're about to hear soon is a bigger brother to the first record. You really can't write Highway Star twice, but on this album there are songs as definitive in my opinion (without being arrogant) that are as strong. We are a work in progress. We're the little rock 'n roll band that could and there are a lot of fans out there that want to see rock 'n roll like it was in the '70s. We're not trying to be that – we just ARE that. Joe's father weaned him on a heavy dose Led Zeppelin, HUMBLE PIE, Deep Purple and FREE. You've got a Bonham on the drums (Jason is more than an incredible drummer.  He is a very talented musician. I would love for he and I to have more time together writing. He came up with a great idea for "2" and he has the magic. We've got a Hughes on the bass, Joe Bonamassa (an iconic blues-rock guitar player) and Sherinian (who is a master keyboard player). Derek is a good guy to have in the middle of this. He's got a great ear and is probably the greatest keyboard player. He's simply amazing and he's a good man."
BraveWords.com: I feel a great sense of confidence and pride coming from you…
Hughes: "Kevin Shirley has said that this is the best album he's ever made. That it's the greatest recording he's ever done. You may want to check out Kevin's discography. This is the hardest working album I've ever done in my life. I've really spent a lot of sleepless night re-writing lyrics, choruses, bridges and changing guitar bits. I get to Kevin every two months to play him a song and I'd run them by Joe. He's come over to my house and we'd go over three or four songs and we'd have the blueprint."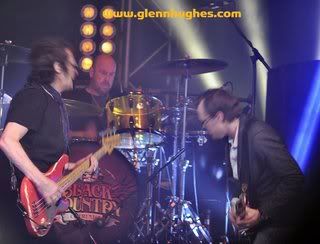 BraveWords.com: Do you normally go through a period of re-writes for an album?
Hughes: "It's normal for me. If you listen to Addiction or Music For The Divine and into what I've been doing now with Joe, Jason and Derek – there's a channel that's been switched on for me. I get up in the morning and I am up in the studio. There's something going on with me internally… I'm being intervened with to write songs. Somebody said years ago, 'if Glenn Hughes could concentrate more on the songs. He'd be the greatest songwriter nobody has ever heard.' Well, ba-humbug to that, but actually that one person hit a nerve with me so I've made songwriting my first love and my wife understands that. The legacy I want to leave is 'yeah Glenn Hughes the voice', but it's the songs. To hear fans sing, "I am the messenger. This is my prophecy.' These are lyrics that I just wrote last year, was a very big thing for us. It gave us all a big boost."
BraveWords.com: The amazing thing is the band almost ended up not existing. When the project was first announced, you had a different name. It had to be changed. Then the rumors started about breaking-up…
Hughes: "What happened is that we were brand new and there were a lot of people behind-the-scenes saying this is your job… that's your job and when that was all done a year ago – everything was just fine. This whole thing has been blown out of proportion. It was all very very silly. Since then, it's been incredible. We are planning a bigger year in '11 for BCC. Last year was just the start of our journey. We'll be doing eight shows in the US in June and then we're off to Europe. Then we'll come back to the US and do more. So, this band is not a side-project, if you will, while we take a break from our solo careers."
BraveWords.com: Will you be joining any package tour?
Hughes: "No, you won't see BCC doing any '80s package tour or anything like that. It's not going to happen and the reason why we've done album '2' is because we want to have twenty-four songs to draw from when we play live. We want to have a two-hour show of nothing but BCC songs."
BraveWords.com: Will you still sneak in the occasional Deep Purple song…
Hughes: "I don't know. I was out-voted in the UK - everybody wanted to play 'Burn'. Joe and Jason play 'Burn' insanely good and the place went crazy. We did 'No Quarter' in homage to my friend John Bonham (Jason's father) and that went down insanely good as well, but we also have these great brand new songs. This band needs to be seen live. We are a LIVE band. BCC is great musicians who love the art of making great music. We don't do this to pick up chicks or do drugs. We do this because we really enjoy the art form, the audience is there, tickets are selling well, everything is going great, we are in a market where nobody else seems to be doing business and we just seemed to have hit the nerve perfectly."
BraveWords.com: It's nice to see you be excited to be onstage with these guys…
Hughes: "Oh, God yeah!"
BraveWords.com: Before you were mentioning guitarists that you had worked with. One of them was GARY MOORE who recently passed away. Your relationship with him (back in the day) didn't appear to end very well. Had you repaired your relationship with him…
Hughes: "Oh, yeah we did. Everybody knows what happened. Let's just say this – Gary and I were the best of friends in the late '70s and early '80s. G-FORCE didn't really happen then I went to do the album Run For Cover with him… let's be very clear – I wasn't the man I am today. I was over-served at the bar on a couple of occasions and his management thought it was fair for me to leave the band. What happened when I was sent home was that there were a few partings shots at me. The stuff that was said, whether it was inappropriate or not, was said and it was awful. It was mortal and nasty, but I had to swallow my humble pie and go on with my life. It was a very bitter time for me, but cut to the chase ten years later in the '90s – I'm sober, living in Stockholm, I'm in a restaurant and Gary Moore was in the same restaurant having a cocktail. So, I go over to him and he doesn't recognize me because I had lost 60 lbs. We make our amends to one another. We cry. We hug. We laugh and we threaten to work on one another's albums. We kept in touch over the years and I saw Gary last summer. Our relationship was mended and I want people to know that this guy… this man who I spent many great times with both musically and personally was one of the top three guitar players of the last one hundred years. He was the most ferocious guitar. He had no fear of any note. He was a tough character, Gary. He was a tough Irish lad and I admired him immensely. He was very much misunderstood. I'm still in shock that he's gone. I don't want to go too deep into this, but Gary was a troubled man and I don't want to say anymore than that. What we should remember was that he was an amazing blues rock icon that will go on to have a great legacy in our industry."
Stay tuned part II of BraveWords.com's chat with Glenn Hughes soon!