GORGUTS – Reunited ... With Wisdom And Hate
August 7, 2011, 6 years ago
By David Perri
It's no coincidence that Canada's metal landscape is a harbinger of the innovative, the complex, the technical and the brutally extreme. Forged in ice by VOIVOD during the early '80s and then brought to illogical end-points by the likes of GORGUTS, CRYPTOPSY and STRAPPING YOUNG LAD during the '90s (and DESPISED ICON, ION DISSONANCE, NEURAXIS and BENEATH THE MASSACRE during the '00s), the Canadian scene is an inverted wound that has fermented into a very visible scar, influencing loud propositions literally the world over. Sherbrooke, Quebec's Gorguts has been an integral component and proponent of that non-arbitrary technicality, the group always sure to smash its confines and then create with the shards of glass that remain, even if thousands of cuts are sure to be sustained. Gorguts has released two internationally acclaimed classics in 1998's Obscura and 2001's From Wisdom To Hate but the group disbanded in 2005, leaving a gap in metal's left-leaning thought process. In 2009, however, Gorguts founder Luc Lemay brought his band back to an altered metal canvass that finally had realised the debt it owes to Gorguts and, as Gorguts finalises its new record and gears up to play the Heavy MTL and Heavy T.O. festivals, Lemay updated BraveWords.com on Gorguts' bright future.
"The idea to reunite Gorguts came when we wanted to celebrate the 20th anniversary of the band in 2009," begins Lemay. "Then we had the idea of making the new record, so we tried to synchronize it with the 20th anniversary of Considered Dead, which is 2011. So it was all based on the 20 year thing. It's great to be back with the new players, they're amazing musicians. I think we've written a killer record together, and I can't wait to get it out there. I'm very happy with it."
A new Gorguts record is always an exhilarating proposition, even moreso when it's confirmed that the album will be challenging and idea-encased, though no one would ever expect anything less of Gorguts.
"The new record has Gorguts' fingerprint for sure, but it doesn't sound like From Wisdom part II or Obscura part II," Lemay explains. "This is the proggiest record we've done. They're long songs: six, seven and eight minute songs, and it'll be a conceptual album. Prog would be the word, and it's very ambient, too. Maybe I got into this type of song-writing because in NEGATIVA (note: ex-Gorguts guitar player Steeve Hurdle's band, along with Lemay, ex-Ion Dissonance bass player Miguel Valade and ex-AUGURY drummer Etienne Gallo) we wrote long songs. Then I discovered all the British projects with Steven Wilson, like PORCUPINE TREE and BLACKFIELD, and Porcupine Tree has those long songs. Then I also got into the older OPETH albums, so I must say that had a strong influence on my writing, as well."
Another unique aspect of the upcoming Gorguts record is that the album was recorded with the new line-up, as Colin Marston (KRALLICE, DYSRHYTHMIA, BEHOLD… THE ARCTOPUS), Kevin Hufnagel (Dysrythmia) and John Longstreth (ORIGIN) have now joined Lemay's creation.
"I wrote most of the material and then sent Kevin and Colin the music sheets with mp3s, and Kevin and Colin contributed mostly as arrangers. But they also both contributed with two killer songs; they each wrote a song on the record. It was important for me to have them putting their fingerprint not just as arrangers, but as composers as well."
And it turns out Lemay has been aware of Marston, Hufnagel and Longstreth for almost decade before they joined the band.
"John got in touch with me in 2003 after Steve (MacDonald, Gorguts drummer) died, and he said that if I ever needed a drummer I should be in touch. Back then I wrote back and said that I was done with Gorguts and thanks for writing, and that was it. But we kept in touch, maybe a few emails a year. Then later when I got together with Steeve for Negativa, I was outdated with what I was listening to and Steeve was more up to date than I was. Steeve hooked me up with a few albums, and Knives of Ice by DIM MAK was one of them. John's playing is fucking amazing on that record, and I was blown away. That's when I decided to get the new line-up together, and he would be part of it. Since we were already writing to each other, I got in touch and he said yes. I already had Colin in mind as well and, it was the same thing, I wrote to him and he said yes. Everybody was a fan of the band, and they listened to Gorguts before we even knew each other. And Kevin, it's Steeve that told me about him as a guitar player and after a jam we watched a few Dysrhythmia videos on Youtube and I was totally blown away by Kevin's style, too. I thought Kevin's style would blend pretty well with mine, and it actually did (laughs). It clicked perfectly."
The fact that members of Origin, Krallice and Dysrhythmia have become a part of Gorguts means that the circle has completed in a sense, as the influenced now join the progenitor. Gorguts is, evidently, one of the most wildly influential technical death groups of the last two decades, a giant shoulder that so many of today's ultra complex bands stand on.
"It's flattering and I really take it as a compliment," Lemay responds, when asked how he feels about Gorguts' influence on metal's new breed. "We just did what we had to do in Gorguts, and if it reached people and inspired people, that was great. But you never expect these kinds of things when you create art. You just do what you feel like doing and create what you feel like creating. It's always nice to see the impact, in time, and in the long term, that it has on people and other artists. I feel very thankful and grateful for that."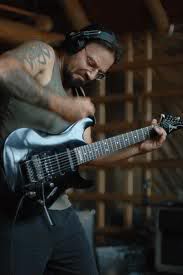 As for Obscura, one of Gorguts' undisputed hallmarks, Lemay has quite vivid and positive memories associated with the creation of the record.
"I'm very proud of Obscura, and I'm thankful that we were very curious while writing it. We didn't want to step in same shoes as the more traditional death metal style of writing. We intentionally sat down and said we were going to write riffs with no fast picking and no traditional SLAYER beats. It didn't happen by accident, we really imposed very rigid limits so we could put our fingers on different ideas as composers instead of just taking the same comfortable habits of writing. We decided to impose a type of rigour for ourselves, and we didn't want to use the usual ingredients as composers. It was no comfort zones. That's how that record happened. Also, Obscura was the first collaborative record we did in Gorguts, because I wrote 95 percent of the first two records. We would take a week off where everyone would come up with riffs, and then the week after we'd show each other our riffs and choose what would make the song. And then, before we knew it, two or three days later we had a song and then we barely touched it after, it was mostly complete. It was written pretty quickly, and it was very spontaneous. As artists we were very hard to please, we didn't just want low vocals and fast guitars. We've always been very picky with what we listened to, and we felt we wanted to write the album we would have loved to hear from another band. I always kept that vision, and you need to write the music that would surprise you if you would pick up a record, the kind of music that would blow your mind. That's always what pushes me. That's why I stopped the band, actually. I wasn't interested in writing anymore and I didn't feel like I had anything to say anymore. You need to have something to say. You can't just repeat yourself or just put out a record to put out a record."