GREAT WHITE Guitarist Mark Kendall - "I'm Pretty Sure That We Just Made The Best Record We've Made In 20 Plus Years"
April 18, 2012, 5 years ago
Jeb Wright at Classic Rock Revisited recently spoke with GREAT WHITE guitarist Mark Kendall (pictured left). An excerpt from the interview is available below: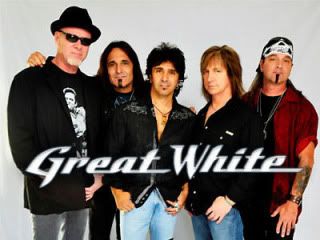 Jeb: Jack Russell is a HUGE part of Great White's past. He is the voice that everyone knows and has been the face of the band. Why couldn't it work with him anymore?
Mark: "We had been waiting for it to work for the last thee years, and then, we heard, by a Facebook post, that he had a new band."
Jeb: On That Metal Show, Jack said he is clean and sober. To your knowledge, is that true?
Mark: "I didn't actually see that yet. What did he look like to you? I hope so, and I really mean that. I would love to see him healthy again."
Jeb: He also claimed you will basically do whatever will pay you the most money. In my dealings with you I have not seen that side of you. What do you think he meant by that?
Mark: "First of all, I am a guitar player. I play in the band Great White and that, and the fans, have always been my priority. I can't speak for him, so I am not sure why he says some of these things. In this case, I have no idea, whatsoever, what he is even talking about."
Jeb: At what point does integrity come into the game? Is there a point where one side, or the other, should say, "This isn't the way to do this? It is not right for the fans and it is not right for our legacy." Is there a point people should walk away from this?
Mark: "I am pretty sure that we just made the best record we've made in 20 plus years, and that's the only integrity I hold on to. It's always been a priority to make the best music we can make, for the fans, and we just did that. I have no control over Jack, or what he does. In this case, it wasn't a 'we' situation. I am in this band to kick maximum ass...the end."
Go to this location for the complete interview.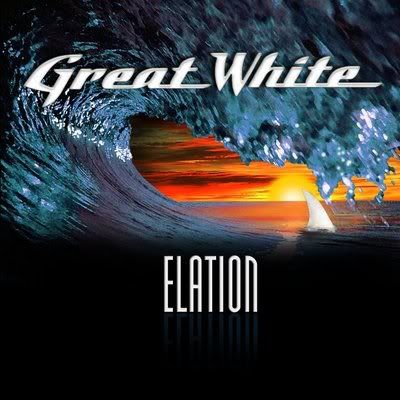 The tracklist for Great white's new album, Elation, is as follows:
'(I've Got) Something For You'
'Feelin' So Much Better'
'Love Train'
'Heart Of A Man'
'Hard To Say Goodbye'
'Resolution'
'Shotgun Willie's'
'Promise Land'
'Lowdown' (Bonus Track)
'Just For Tonight'
'Love Is Enough'
'Complicated'
Great White 2012
Terry Ilous – lead vocals
Mark Kendall – lead guitar
Scott Snyder – bass guitar
Audie Desbrow – drums
Michael Lardie – guitar, keyboards
Great White's itinerary can be viewed below:
April
20 - Boca Raton, FL - Sunset Cove Amphitheatre (with QUIET RIOT, KIP WINGER)
21 - Cape Coral, FL - German American Social Club (with SKID ROW, Quiet Riot)
June
1 - Norfork, NE - Midwest Bikefest
16 - Zurich, Switzerland - Rock Im Tal (Rock in the Valley)
30 - Greeley, CO - Greeley Stampede (with Creedence Clearwater Revival)
July
6 - Las Vegas, NV - Sunset Station Casino (with SLAUGHTER)
7 - Casper, WY - The Oasis Venue (with Slaughter)
13 - Woodhaven, MI - "Uncle Sam Jam" @ Civic Center Park
19 - Erie, PA - Roar on the Shore Biker Rally
20 - Santa Cruz, CA - Santa Cruz Beach Boardwalk
28 - Birkenfeld, OR - Run 21 Biker Rally
August
11 - West Allis, WI - Wisconsin State Fair (with Slaughter & Tesla)
17 - Spanish, ON - Come Rock N Roll Spanish
24 - Jackpot, NV - Cactus Pete's Casino Resort
25 - Jackpot, NV - Cactus Pete's Casino Resort