Guitarist GUS G. On OZZY OSBOURNE - "Every Moment You Spend With Ozzy Is Precious"
January 16, 2013, 4 years ago
Guitarist GUS G. (FIREWIND, OZZY OSBOURNE) is featured in a new interview with Guitarhoo.com. An excerpt is available below: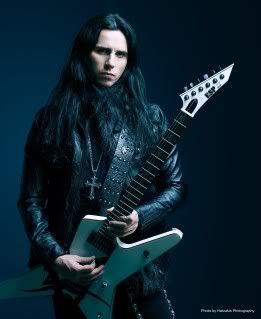 G!: What are your fondest memories from touring with Ozzy?
GG: "It's been an amazing ride so far! The whole tour was just incredible. Playing around the world in the biggest venues and headlining the biggest festivals, being a part of such a big production and playing with Ozzy, it's just mind blowing. We had great times on this tour, we really worked all as a team and I think we did some great gigs. Of course every moment you spend with Ozzy is precious. The stories, the advices, the jokes and of course all the gigs, it was just fantastic. Ozzy's an amazing person, it's hard not to love this guy."
G!: What is your favorite RANDY RHOADS song or solo (to perform or listen to)?
GG: "I love most of all his stuff. Of course 'I Don't Know' and 'Crazy Train' and also 'Over The Mountain', 'S.A.T.O.' and 'Diary of a Madman' are all favourites."
Go to this location for the complete interview.
Firewind wrapped up the calendar year 2012 with four packed club-shows in their native Greece (two nights in Thessaloniki and two nights in Athens), commencing the celebration of the band's 10th Anniversary of existence. Additionally, and right before the end of the year festivities, Firewind also entered studios in order to mix recordings from their Few Against Many live-campaign last year for an upcoming live-album, scheduled to be released before the summer of 2013. Look out for more details soon.
Expanding Firewind's live agenda for 2013, the band is next headed out on a North American tour with TURISAS and STOLEN BABIES on the Guards Of Glory - North American Tour 2013 and has most recently also confirmed appearances at this year's editions of Summer Breeze festival (Germany), PPM Fest (Belgium) and Rock In Den Ruinen festival (Germany). More shows will be announced soon.
Prior to the North American tourdates, Firewind mastermind and guitar-wizard Gus G.will also be appearing at Jason Becker's Not Dead Yet 2 benefit concert on January 23rd at Slim's in San Francisco alongside ULI JON ROTH, RITCHIE KOTZEN, STEVE MORSE and many other guitar legends. Gus G. will also be announcing special NAMM appearances and signing session in the coming days…
For more details and tour dates visit Firewind.gr.