GUNS N' ROSES Keyboardist Dizzy Reed - "People Can Choose To Live In The Past As Much As They Want, It's Not Going To Change Anything"
January 31, 2013, 4 years ago
GUNS N' ROSES' longtime keyboardist Dizzy Reed recently spoke with Sarah Smith at Australia's FasterLouder.com. An excerpt from the short article is available below: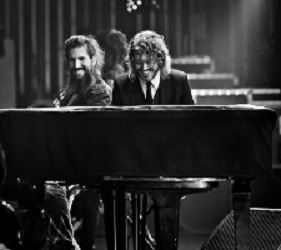 The original 1986 "Geffen-era" Gunners line-up consisted of Axl Rose, lead guitarist Slash, rhythm guitarist Izzy Stradlin, bassist Duff McKagan and drummer Steven Adler, however, Reed dismissed notions that the band's current players are somehow less legitimate.
"This is Guns N' Roses, therefore it is the real Guns N' Roses," he said. "There's not two Guns N' Roses out there playing anymore. People can choose to live in the past as much as they want, it's not going to change anything. This band is the best band I've ever been in, and we go out and we kick ass every night, give a thousand per cent."
Go to this location for the complete story.
According to HereTodayGoneToHell.com Guns N' Roses will be heading to Malaysia for the first time in March.
The show will take place on March 24th, at Sepang International Circuit. Earlier that day, the 2013 Formula 1 Petronas Malaysia Grand Prix will take place at the circuit. It will take place right after the band's previously announce tour of Australia.
The band's updated tour schedule is now as follows:
March
9 - Perth Arena - Perth, Australia
12 - Allphones Arena - Sydney, Australia
13 - Hunter Stadium - Newcastle, Australia
17 - Sidney Myer Music Bowl - Melbourne, Australia
20 - Brisbane Entertainment Centre - Brisbane, Australia
24 - Sepang International Circuit - Sepang, Selangor, Malaysia