H.A.T.E. Comment On Headbangers Open Air Confirmation
February 26, 2011, 6 years ago
As previously reported, Northeast Ohio metal band H.A.T.E. have been confirmed for this year's edition of the Headbangers Open Air festival, set to take place July 28-30, 2011 in Brande-Hörnerkirchen, Germany.
"The H.A.T.E. machine is totally keyed up to be invited to play this year's HOA festival in Germany", says H.A.T.E. vocalist/guitarist Greg Wagner. "I played the festival with BREAKER in 2004 and was blown away by the dedicated, die-hard metal fans that know their metal well. We're humbled to be on the bill and can't wait to board the big bird in July!"
H.A.T.E.'s new album, Inject The Infection, will be released by Auburn Records in April. The album was produced by guitarist Curran Murphy (SHATTER MESSIAH, NEVERMORE, ANNIHILATOR) and recorded at his Smiley Sound Studios in Akron, Ohio.
Other acts on the Headbagers Open Air bill include: ASTRAL DOORS, BARON ROJO, BËEHLER, CIRCLE II CIRCLE, CRYSTAL VIPER, EVIL ONE, FATES WARNING, H.A.T.E., JAGUAR (performing their Power Games album in it's entirety), LEVIATHAN, MELIAH RAGE, METAL INQUISITOR, MORE, PEGAZUS, SKULL FIST, SLOUGH FEG, SPARTAN WARRIOR, STORMWARRIOR (featuring Kai Hansen), STRIKER, SYRON VANES, TIERRA SANTA, TORCH and VULCAIN, WHITE WIZZARD.
Further details to follow. More on Headbanger's Open Air at this location.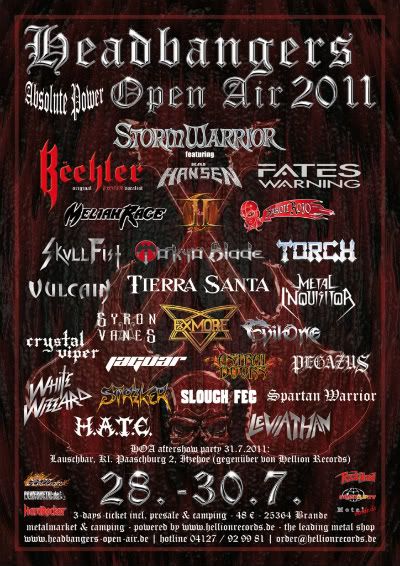 (H.A.T.E. photo above by Joe Kleon: (H.A.T.E. visit Ripper Owens Tap House restaurant in Akron, Ohio. Wagner (far right) replaced Owens as lead vocalist in the tribute band BRITISH STEEL after JUDAS PRIEST selected Owens as Rob Halford's replacement in 1996.)