HAMMER HORDE – Vinlander Near Completion
November 29, 2011, 6 years ago
Viking metallers HAMMER HORDE have issued the following update:
"After endless hours mixing, re-mixing, and mixing again, we're proud to say that the final touches for Vinlander are at last complete. We'll be sending the tracks off to Finnvox once again to be mastered by the almighty Mika Jussila! We've just received a master sample and have been completely blown away by how incredible things are sounding. A release date for 2012 is to be expected and will be announced soon!"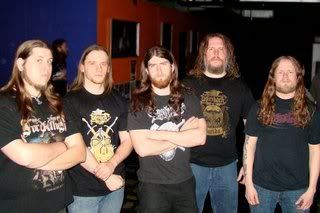 As previously reported, Hammer Horde have been filming their next music video for the track 'Midgaardian Revelry' this weekend. Video preparation for the track from Vinlander, has been underway for several months.
The release date for the video will be announced soon.
Tracklisting for Vinlander is as follows:
'Infinite Warthirst'
'Vinlander'
'Hero's Heart'
'Oathkeeper '
'Hymn Of The Fjords'
'Riders Of Annihilation'
'Archaic Offerings'
'Led By The Ancient Light'
'Midgårdian Revelry'
'Hoddmímir's Holt'
'The Curse Of Andvari'