HATE ETERNAL - Phoenix Amongst The Ashes Artwork, Tracklisting Revealed
March 15, 2011, 7 years ago
HATE ETERNAL's new album, Phoenix Amongst The Ashes, will be released on May 10th via Metal Blade Records. Check out the artwork below: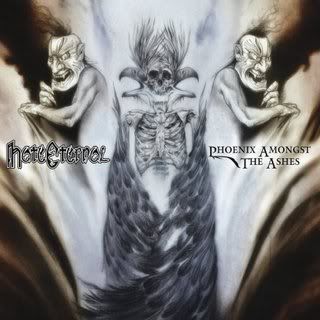 Phoenix Amongst The Ashes tracklisting:
'Rebirth'
'The Eternal Ruler'
'Thorns of Acacia'
'Haunting Abound'
'The Art of Redemption'
'Phoenix Amongst the Ashes'
'Deathveil'
'Hatesworn'
'Lake Ablaze'
'The Fire of Resurrection'
Hate Eternal will be heading out this summer in support of Phoenix Amongst The Ashes with fellow death metal greats ORIGIN, VITAL REMAINS and ABYSMAL DAWN.
Mainman Erik Rutan (ex-MORBID ANGEL) adds: "Hate Eternal is super excited to be touring North America this summer with a new album and a completely awesome death metal package. It has been a while since we have done a headliner tour in the US, so for us to co-headline with Origin and add Vital Remains and Abysmal Dawn to the bill, totally has us amped up and psyched like you can't imagine! We eagerly and anxiously await our time until we can get out there and play material from old to new for the death metal masses. Looking forward to seeing you all at the shows, and we hope you're hungry for over the top intense sonic destruction. This is a tour you do not want to miss!"
Dates:
June
15 - Emo's – Austin, TX
16 - Sorority House – Amarillo, TX
17 - The Marquis Theatre – Denver, CO
19 - The Clubhouse – Tempe, AZ
20 - The Key Club – Hollywood, CA
21 - Slim's – San Francisco, CA
22 - The Alley – Sparks, NV
24 - Studio Seven – Seattle, WA
25 - Rickshaw Theater – Vancouver, BC
26 - Lake City Bowl – Kelowna, BC
27 - The Distillery – Calgary, AB
28 - Pawn Shop – Edmonton, AB
30 - The Exchange – Regina, SK
July
1 - Royal Albert Arms – Winnipeg, MB
2 - Station 4 – St. Paul, MN
3 - The Annex – Madison, WI
5 - Reggie's Rock Club – Chicago, IL
6 - Peabody's – Cleveland, OH
7 - Wreck Room – Toronto, ON
8 - Les Foufounes Electriques – Montreal, QC
9 - The Palladium – Worcester, MA
10 - Santo's Party House – New York, NY
13 - The Oasis – Charleston, SC
14 - Firestone Live – Orlando, FL