HEADSTONES Frontman Hugh Dillon Issues Video Update - "Apparently, You Can Teach An Old Dog New Tricks"
November 4, 2012, 4 years ago
HEADSTONES frontman Hugh Dillon - also the star of the hit TV series Flashpoint - has checked in with the following update on the band's comeback album:
Dillon recently answered a fan's question via Facebook regarding the band's future:
"The future, huh?? OK, well, the way I'm looking at it is this, I want to get the word out, and that means getting as many folks involved in our new record as we can. Pre-ordering is the key, as we are doing this all together fans/band. We did this with our first demo for Picture Of Health. People like the music, they come to the gigs; simple as that. I think this record is going to shock the shit outta most people in terms of music, lyrics and melody. We have distilled it down to Headstones crack, actually.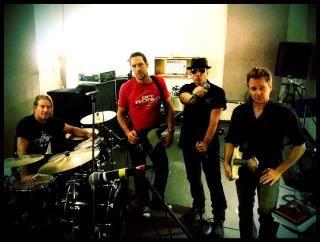 Anywho, the idea here is to get all the old Headstones fans and the new ones to commit to picking up a copy of the record, and I promise you we will commit to the live dates - for multiple years, mind you. It's kinda like if we put a show on sale and if everyone knows about it they buy tix and it's a great experience. No bullshit, no excuses, 100 miles an hour, 200 percent commitment start to finish. Everybody wins."

On December 27th, 2011, the Headstones played the first of two comeback shows in Vancouver, BC at the Commodore Ballroom. Good quality front row footage from the gig is available below.