Heavy MTL 2011 Show Report – 33,000 Fans Can't Be Wrong…
July 26, 2011, 3 years ago
Drawing close to 33,000 fans over a span of two days, Heavy MTL proved, for a third time since 2008, that the festival has become North America's premier metal showcase. Once again taking place at Montreal's picturesque Parc Jean Drapeau, Heavy MTL 2011 covered a wide palette of extremity, ranging from the raging technicality of Canadian prodigal sons GORGUTS and NECRONOMICON to the Scandinavian/Nordic finesse of Sweden's IN FLAMES and OPETH and Finland's CHILDREN OF BODOM. The '80s, metal's first golden age, was also well represented with ANNIHILATOR, DEATH ANGEL, GIRLSCHOOL and a rare appearance by DIAMOND HEAD smoothing over the death vocals, while bigger mainstream names were, of course, also around, running the gamut from the beyond-reproach MOTÖRHEAD to the admittedly out of place BILLY TALENT and the circus show that is KISS.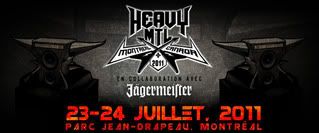 Day I – Saturday, July 23rd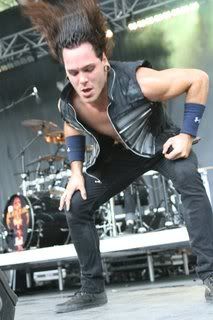 Day 1 began with Montreal's BLACKGUARD, the group putting on an energetic display of its self-styled epic metal. Combining the dexterity of Children Of Bodom with power metal's anthemic displays and folk-metal's sense of KORPIKLAANI, Blackguard used the experience accrued from the past two years on the road to impress the large number of fans that had gathered at the side stage.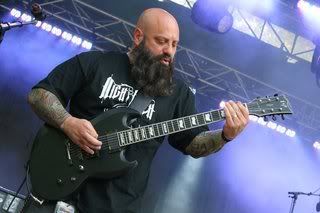 KINGDOM OF SORROW was next on the side-stage and the group, featuring HATEBREED's Jamey Jasta and CROWBAR's Kirk Windstein, performed with vigour, proving why its brand of N.O.L.A. rock has struck such acclaim with followers. Jasta was especially appreciative of the crowd, at one point turning the tables and giving the audience a hand for its reception to the band.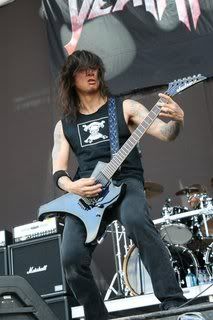 Heading over to the main stages, California's DEATH ANGEL brought its riffs and brought them bold, the group stuffing its old-school thrash with the type of confidence and calm becoming of its classic status. Death Angel, along with TESTAMENT, EXODUS and OVERKILL, represents a better version of thrash's Big 4 (save for Slayer), and it's heartening to see Death Angel teaming up with Testament for a fall tour. Quebec legend GRIMSKUNK continued the action on the side stage, playing to a massive audience that had gathered for its blend of metal, hardcore, punk, ska and reggae. Grimskunk's popularity in Quebec is unsurprising, as the band aurally manifests the cultural uniqueness of Canada's French heartland.
At the same time, MACHINE HEAD was re-indoctrinating the masses over at the main stages. Robb Flynn has been fully ensconced back in our realm for almost a decade after nearly losing himself entirely to nu-metal during the '90s and early '00s. It's nice to see Machine Head back in metal terrain where it belongs, as tracks from the band's landmark The Blackening proved what metal's archetype is actually all about to the TRIVIUM and UNEARTH mallrats that stuck around for Machine Head's set.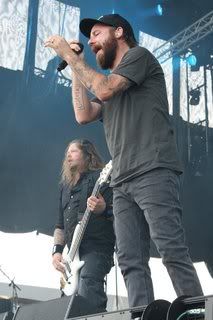 Gothenburg's IN FLAMES continues to disappoint on record with the tepid-in-various-ways Sounds Of A Playground Fading (save for 'Fear Is The Weakness', 'Darker Times' and 'Ropes'), but the band, as always, atoned live, what with Anders Friden playing the Swedish jester (his ordering a beer from the stage was a funny moment) and the rest of the group ripping through catalogue highlights 'Pinball Map' and 'The Hive' (which Friden introduced, much to this scribe's appreciation, in the following way: "If you don't know this song from 1997, you don't fucking know anything about In Flames"). Set closer 'Come Clarity' was especially inspired, In Flames earning an undeserved second chance, yet again. Toronto's BILLY TALENT did its best to fit in with the black-clad longhairs, smartly beginning with its heaviest track, 'Devil In A Midnight Mass' and, generally, keeping it as caustic as possible. The band was surprisingly well received, as fans flocked to the group's radio rock while Montreal-born vocalist Ben Kowalewicz kept the mood light and slighty self-deprecating, knowing his band wasn't going to out-muscle anyone.
A trip back to the side stage saw Canada's answer to BEHEMOTH, NECRONOMICON, assaulting the crowd with its blackened death that harkens to its Polish compatriots from Gdansk. Necronomicon vocalist and guitar player Rob "The Witch" has taken his group to new heights, both musically and aesthetically, and it remains shameful how under-rated the band is. 2003's intelligent and vastly impressive The Sacred Medicines remains one of Canada's most impressive gems. Day 1 ended on a high note, no doubt.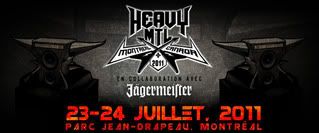 Day II – Sunday, July 24th
Day 2 brought England's GIRLSCHOOL, the NWOBHM group impressing with its combination of classic material and inspired performances. GIRLSCHOOL outmuscled bands half its age, proving that even heritage acts can make an impact at a festival featuring more aggressive bands.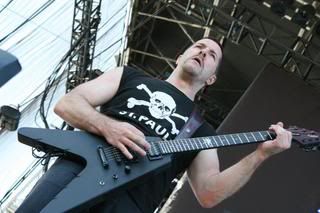 Ottawa's ANNIHILATOR was the next notable act on the main stage, teaching its audience that Annihilator's influence is not to be taken lightly. It's not surprising that, at one time, Annihilator was a favourite of Megadeth's Dave Mustaine, as Annihilator is adept as lightning-fast thrash as well as memorable anthems. Annihilator's Montreal homecoming was a major rager, and here's hoping this vastly under-rate force will one day receive its due. It was then time for CHILDREN OF BODOM - arguably Finland's biggest metal band - to bring its brand of Nordic finesse to the fore. Playing a career retrospective set that featured both its shred-obsessed earlier moments alongside its BLACK LABEL SOCIETY-influenced latter-day work, the set's highlight was a super-fast version of 'Children Of Bodom', the group operating maximally at this hyper-speed. Vocalist and guitar player Alexi Laiho's sense of humour was evident as he joked between songs and sported an "I Love Sea World" t-shirt, while his soloing alongside keyboard player Janne Warman was patented Bodom. "We've never played outdoor festivals outside of Europe," commented Children of Bodom bass player Henkka Seppala, before his band's set at Heavy MTL. "It's interesting to see how this one is. It seems to be the same as a European festival. I've heard from the crew that everything is working really well and that the organization is really good. The catering was amazing (laughs). Montreal is one of the best cities for us to play in the world. The expectations are quite high, because outside of Finland Montreal is our strongest market in the world. The shows are always good and record-sales wise it's good, too." Classic death metal institution MORBID ANGEL thankfully kept its latest industrial forays out of its set and, instead, focused on the early '90s Florida death that originally won the band acclaim. New drummer Tim Yeung (ex-DIVINE HERESY) is a beast, and his playing complimented the reunited David Vincent and Trey Azagthoth, especially during highlight 'Angel of Disease'.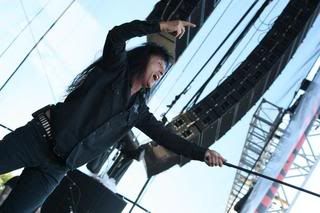 England's DIAMOND HEAD had the misfortune of playing during an act it directly influenced, ANTHRAX, as ANTHRAX performed to a large crowd at one of the main stages and Diamond Head was relegated to the side-stage. That didn't stop this NWOBHM institution from shining however, and the faithful that had assembled to watch the band during one of its ultra-rare North American live performances were impressed at the group's vitality and energy. Diamond Head was in shape and in form, and there was no indication of haggardness or raggedness, two elements that sometimes dog heritage acts. Beginning with 'It's Electric' and eventually segueing into classics 'The Prince', 'Helpless' and 'Am I Evil', Diamond Head was, without a doubt, one of the highlights of the entire festival.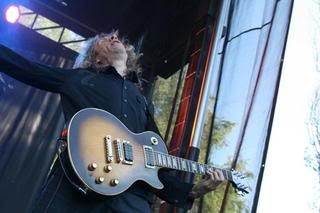 Stockholm's OPETH didn't surprise in any manner: the band played its masterful work perfectly, and vocalist and guitar player Mikael Akerfeldt dead-panned his way through the in-between song banter. Akerfeldt has a career as a stand-up comedian in his future, and his comments about headliner KISS were especially funny. Also very much appreciated was the live rendition of 'The Lotus Eater', Opeth's by-far most affecting song. Just as Opeth had some fun with KISS' presence, so did MOTÖRHEAD frontman Lemmy. "It might the first time for the KISS fans," he said before performing 'Ace of Spades', while the rest of the set was beyond reproach from this metal institution. 'Overkill' closed out a performance that also saw new tracks from The World Is Yours, and Lemmy's attitude is, as always, 49 percent motherfucker and 51 percent son of a bitch. KISS then made its way to the stage, beginning with 'Modern Day Delilah' off of Sonic Boom. Paul Stanley was aware of the band's multi-generational appeal, asking the audience to "hold up the little ones", as KISS played the hard rock it's inexplicably revered for. Better things awaited though, and a trip to the side stage became the defining moment of Heavy MTL 2011…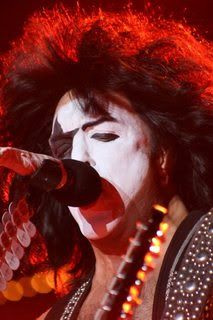 That side-stage trip was for none other than reunited Quebec technical death pioneer GORGUTS. Featuring band founder Luc Lemay as well as KRALLICE's Colin Marston, DYSRHYTHMIA's Kevin Hufnagel and ORIGIN's John Longstreth, Gorguts gutted its sizeable audience while playing classics from Considered Dead, Obscura and From Wisdom To Hate. Gorguts' time is now, and its influence, along with VOIVOD's, on any manner of weird-as-fuck death metal is unarguable. A new album is to appear soon, which is an exciting proposition, indeed. BraveWords.com has extensive photo galleries of Heavy MTL below:
Heavy MTL Day I
Heavy MTL Day II
KISS!