HELLYEAH Release 'Band Of Brothers' Video
May 22, 2012, 5 years ago
HELLYEAH will release their third album, Band Of Brothers, on July 17th. The album's title track is currently streaming at this location. The new video for 'Band Of Brothers' can now be seen below:
Band Of Brothers tracklisting:
'War In Me'
'Band Of brothers'
'Rage/Burn'
'Drink Drank Drunk'
'Bigger God'
'Between You And Nowhere'
'Call It'
'Why Does It Always'
'WM Free'
'Dig Myself A Hole'
'What It Takes To Be Me'
Pre-order Band Of Brothers here and get an instant MP3 download of 'War In Me'.
Loyal Studios in Burbank has become a favorite for artists looking to produce high-definition greenscreen music videos. The two stages in Burbank and Santa Monica have a history of hosting great talents from JASON BONHAM to BRET MICHAELS, as well as producing videos for many others. Hellyeah is the latest to join the ranks, to shoot a high concept video for their new album.
"Hellyeah rocked our studios hard," says Producer and CEO of Loyal Studios, Bob Bekian. "With our 2000 watt amplified playback system, the parking lot was literally shaking!"
"We shot this project with a series of cameras including the Canon 5D with Zeiss prime lenses combined with the new RED digital Scarlett," Bekian added.
Loyal studios is a favorite for music video productions because of the high level of technical equipment and crew available to produce videos with the latest visual effects ("VFX") and style. The studio quickly gained a reputation for being a place that has the best cameras, crews and technical support as well as a place where artists feel comfortable and free to express themselves. The new addition of a complete post production and editing studio inside the shooting location combined with their 75 HD camera systems has put Loyal Studios into a unique position to be able to offer a one-stop shop for Producers.
Hellyeah recently filmed new videos for two tracks from Band Of Brothers. A couple of photos from the set can be seen below: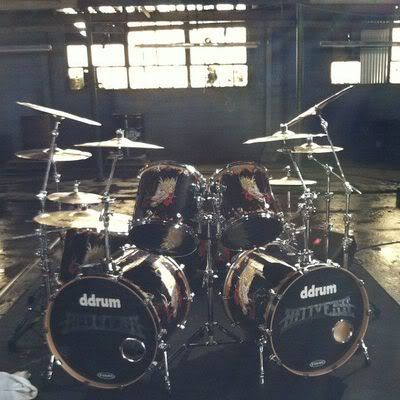 Hellyeah have released the new single, 'War In Me', available now via iTunes at this location and also via the Amazon link below: