HUNTRESS – Eat This!
May 15, 2012, 7 years ago
By Carl Begai
With the world being linked up, down, and ten ways to Sunday thanks to the internet, it's hard to fathom that a metal band can rise seemingly out of nowhere, secure a deal with a respected record label, and find its way onto two high profile North American tours almost immediately thereafter without and pomp or fanfare. California-based HUNTRESS did just that, signing with Austria-based Napalm Records in November 2011 and confirming an early2012 release a short time later for their official full length debut, Spell Eater. It's particularly disconcerting for someone like Yours Truly, who effectively lives on two continents simultaneously and supposedly has a finger on the metal scene's international pulse. The jury is still out on whether this slip was a case of jaded journalistic ignorance, particularly given that Spell Eater is meat-and-potatoes wallop of old school thrash-and-burn metal.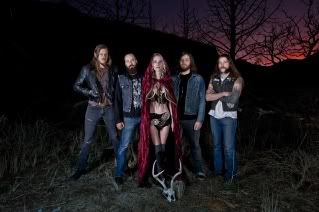 "No, you're not at all ignorant; we did just appear, quite magically" says vocalist Jill Janus graciously. "Huntress was birthed in the underground metal scene, but I clawed my way through the roots and dirt rapidly. I have been visualizing this moment for a long time. I finally met four people at my level of musicianship who share the same vision. It's simply our time now. I could have appeared sooner fronting some false trend metal band, but my integrity is sacred. We don't compromise on our art."
"I've spent nearly 10 years searching for band members, I hunted down Professor in Los Angeles and played them demos I wrote, which they called 'Iron Maiden Lite,' But they knew I could wail, so they said fuck it. It was a unique merger."
Jill names DISSECTION, MERCYFUL FATE, KING DIAMOND, DEATH and Uli Jon Roth-era SCORPIONS as a few of the bands she and her horde were listening to during the writing process for Spell Eater. Those influences are readily apparent, making it no surprise that Huntress sought out a European label rather than trying to find a foothold at home in the US first.
"We did seek out Europe first, thinking labels there would be more excited about Huntress," Jill admits. "Napalm Records won us over because they share the same vision and completely support our art."
Ironically, Napalm Records turned around almost immediately upon announcing the Huntress signing and secured the band a support slot on the Paganfest America III tour with TURISAS, ALESTORM and ARKONA. From that point the buzz surrounding Huntress began in earnest, with a berth on UK-bashers DRAGONFORCE's North American tour confirmed to take place immediately following the Paganfest run.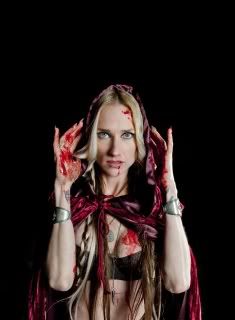 "We were offered some amazing opportunities just from the 'Eight Of Swords' video, but I knew that would happen. The tarot foretold it. Paganfest turned out to be an amazing opportunity for Huntress. We didn't know what to expect, but the fans embraced us and the bands were so incredible. Turisas, Alestorm and Arkona are amazing artists and we learned so much from traveling with them. Plus; they love to have fun, we were always having a laugh and pulling pranks on each other."
"The last six months have been a whirlwind, recording Spell Eater and then touring non-stop," Jill adds. "It does blow our minds that we were touring the US and Canada without an album out, but it's like we're in heavy metal boot camp. We're learning a lot and making a few mistakes now before shit gets real. Reactions have been killer, so much faith in Huntress. It's been surreal too; fans crying when they meet me, waiting outside venues for us to arrive and knowing all our names. It's a trip!"
Jill is something of a minority on the metal scene as a vocalist, with only a handful of women out there doing actual singing without falling into the opera box or going full-on Arch Enemy death metal. She joins the likes of Doro Pesch, Veronica Freeman (BENEDICTUM), Kate French (VAINGLORY), and bears an uncanny albeit heavier vocal resemblance to original CHASTAIN vocalist Leather Leone (see: For Those Who Dare from 1990). The buzz surrounding Huntress being what it is, Jill's performance is under even closer scrutiny at the band's shows now that Spell Eater is out.
"You know, I have a good sense of humour about this business," she says. "At the same time, I have integrity which doesn't permit me to care what others think or expect. I do not compromise on my vision, ever. I live only for my purpose. I was born with a voice for heavy metal and that voice rules me. Nothing else matters."
Meaning that the flak she's taken for playing up the metal vixen image – primarily in the 'Eight Of Swords' video and promo photos – has amounted to a whole lot of nothing in her world. Folks will be waiting an awful long time for Jill Janus to justify her metal persona and the wardrobe that goes with it.
"I'm quite happy about my image evolving and I have never justified it to anyone, nor will I start now. I'm so broke I can't even afford to buy clothes. Can't wait until I can afford a skin tight leather wardrobe! There will always be misconceptions and illusions surrounding me, and that's fine. I'm not here to change the world; I'm here to live only for my purpose."