IAN GILLAN & TONY IOMMI's WhoCares Album To Be Released In North America This Month
August 5, 2012, 7 years ago
DEEP PURPLE's Ian Gillan and BLACK SABBATH's Tony Iommi took everybody by surprise in 2011 by releasing a charity single: 'Out Of My Mind', renewing the collaboration that led the pair recording the Black Sabbath album Born Again in 1984. None other than Jason Newsted (METALLICA), Jon Lord (ex-Deep Purple), Nicko McBrain (IRON MAIDEN) and Linde Lindström (H.I.M.) supported the two rock legends.
Not only jamming together for the shear fun of things, this new project has united for a cause - rebuilding and helping the music school in Gyumari, Armenia. The single was a joyful and inspired moment. Iommi and Gillan then decided to make WhoCares an album for their devoted fans. Classic songs and a lot of rarities and unreleased material in two-CDs of fantastic rare music. This is much more than a Gillan solo album or a Deep Purple anthology – this is a real collector's item and must have for every Ian Gillan and Tony Iommi fan.
The album was released in Europe on July 13th, and will now be available in North America on August 28th.
An update from Iommi states: "Many thanks to everyone who bought the WhoCares single or album, we've heard from our buddy in Armenia that construction work on the school will start on August 15th! This is just the beginning so please continue to support us! The album will be available in (North America) at the end of August, more news at that time."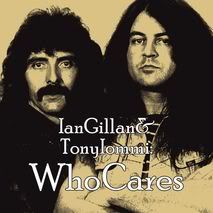 WhoCares tracklisting:
CD1
WhoCares - 'Out Of My Mind' (first time on an album featuring Jon Lord, Linde Lindström, Jason Newsted, Nicko McBrain)
Black Sabbath- 'Zero The Hero'
Ian Gillan featuring Iommi, Ian Paice and Roger Glover - 'Trashed'
M. Rakintzis featuring Ian Gillan - 'Get Away' (first release on a Gillan album, only released in Greece before)
Tony Iommi featuring Glenn Hughes - 'Slip Away' (first time on CD)
Gillan - 'Don't Hold Me Back'
Ian Gillan - 'She Thinks It's A Crime' (vinyl single B-side, first time on CD)
Repo Depo featuring Ian Gillan - 'Easy Come, Easy Go' (previously unreleased)
Deep Purple featuring Ronnie James Dio - 'Smoke On The Water' (live with the Royal Philaarmonic Orchestra)
CD2
WhoCares - 'Holy Water' (first time on an album featuring Jon Lord, Linde Lindström, Jason Newsted, Nicko McBrain)
Black Sabbath - 'Anno Mundi'
Tony Iommi featuring G. Hughes - 'Let it Down Easy' (first time on CD)
Ian Gillan - 'Hole in My Vest' (7" vinyl single B-side, first time on CD)
Gillan & Glover featuring Dr.John - 'Can't Believe You Wanna Leave Me'
Ian Gillan & The Javelins - 'Can I Get A Witness'
Garth Rockett & The Moonshiners aka IG - 'No Laughing In Heaven' (rare track)
Ian Gillan - 'When A Blind Man Cries' (Live at Absolute Radio, previously unreleased)
Deep Purple - 'Dick Pimple'
New audio medleys featuring tracks from the album are available below: