IRON MAIDEN Quietly Committed To Help Former Drummer Clive Burr With MS
August 22, 2012, 5 years ago
Karen Bliss from Samaritanmag.com is reporting:
British metal icons IRON MAIDEN is usually mum about the charities and causes it gets behind - except one.
"We have been involved with stuff over the years," bassist Steve Harris tells Samaritanmag, while in Toronto for a show at Molson Amphitheatre and to promote his forthcoming solo project, British Lion, not out until Sept. 25. "A lot of people make a big publicity thing out of it and we don't, so I'd rather not say.
"One of the things I can talk about because we started it off is our old drummer, Clive (Burr) has MS (Multiple Sclerosis), so we started The Clive Burr Trust. Another friend of mine (Ralph) also has got it. He's in a wheelchair. We went to school with him, my oldest friend since I was 5 years old, so we helped him, but we don't normally talk too much about it."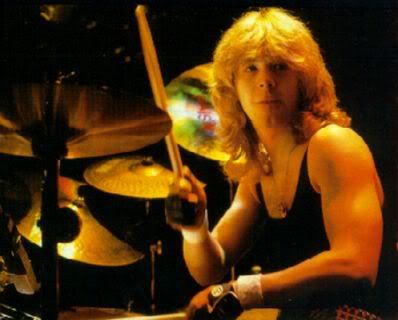 Burr was Iron Maiden's drummer from 1979 to 1983, playing on albums Iron Maiden, Killers and Number Of The Beast and touring with the band. After he left, he enjoyed brief stints with numerous other acts including TRUST, ALCATRAZZ, GOGMAGOG (with ex-Maiden vocalist Paul Di'Anno and future Maiden guitarist Janick Gers), ELIXIR, and PRAYING MANTIS.
There is no longer a web site or readily available information on The Clive Burr MS Trust, but the band continues to raise money for it periodically.
"The fans know about it and they contribute to it, and every now and again we'll do a show and just donate all the money," says Harris. "When we need to top it up, we do something."