IRON MAIDEN's Bruce Dickinson Comments On 'Space Truckin'' Cover For Re-Machined: A Tribute To DEEP PURPLE's Machine Head - "Initially We Didn't Think We'd Be Able To Contribute Anything..."
August 16, 2012, 5 years ago
Eagle Rock Entertainment will release Re-Machined - A Tribute To DEEP PURPLE's Machine Head on September 25th in North America. The album features a list of hard rock/metal heavyweights including METALLICA, IRON MAIDEN, CHICKENFOOT, BLACK LABEL SOCIETY and more.
Iron Maiden's 'Space Truckin'' cover was actually recorded back in 2006. Lead singer Bruce Dickinson (pictured at left with Deep Purple's Ian Gillan) explains, "Initially we didn't think we'd be able to contribute anything due to our touring commitments. Then we remembered 'Space Truckin', which we'd recorded as a single B-side during our A Matter Of Life And Death album session, but never used. However now, thanks to Kevin Shirley's remixing skills, we're able to include it on Re-Machined."
Check out a new trailer below:
Machine Head is cited as one of the influential masterpieces in the history of hard rock/heavy metal. Deep Purple's sixth studio album was recorded through December 1971 in Montreux, Switzerland, and released in March 1972. The album reached number one in the United Kingdom, Germany, Australia and Canada.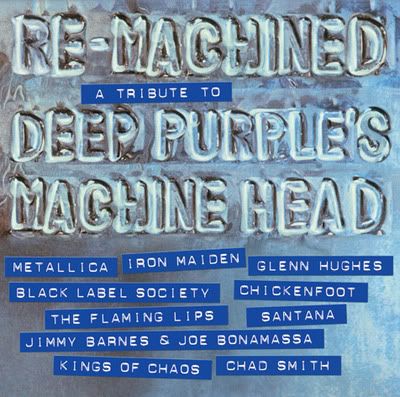 Re-Machined - A Tribute To Deep Purple's Machine Head tracklisting:
'Smoke On The Water' - CARLOS SANTANA / JACOBY SHADDIX
'Highway Star' - CHICKENFOOT
'Maybe I'm A Leo' - GLENN HUGHES / CHAD SMITH
'Pictures Of Home' - BLACK LABEL SOCIETY
'Never Before' - KINGS OF CHAOS
'Smoke On The Water' - THE FLAMING LIPS
'Lazy' - JIMMY BARNES with JOE BONOMASSA
'Space Truckin' - IRON MAIDEN
'When A Blind Man Cries' - METALLICA
'Highway Star' - GLENN HUGHES, STEVE VAI, CHAD SMITH, LAUCHLAN DOLEY
The cover of 'Highway Star' is currently streaming online at BraveWords.com - head to the left-hand-side of the site to launch the KnuckleTracks Online Audio Player.