Italy's VOODOO HIGHWAY Signs To Rock N Growl Promotion
June 13, 2011, 7 years ago
Italian classic hard rockers VOODOO HIGHWAY have signed to Rock N Growl Promotion for their new album, Broken Uncle's Inn.
The album features the following tracklist:
'Intro (Since 1972)'
'Till It Bleeds'
'The Fire Will Burn Away'
'J.c. Superfuck'
'Window'
'Running Around'
'Broken Uncle's Inn'
'Heaven with No Stars'
'Gasoline Woman'
'In Fact It's the Worst'
Check out the artwork below: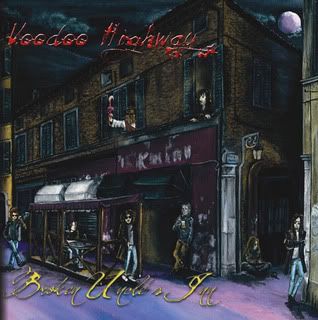 Produced by Luca Magni, the album was recorded between November 13th, 2010 and January 12th, 2011 at Sonika Studios in Ferrara, Italy. The album was mixed and mastered by Simone Mularoni at Domination Studios (San Marino).
Check out the track ''Till It Bleeds' below:
Voodoo Highway is one of the most exciting bands of the Italian rock, hard rock and metal scene. The band is considered by most as a true revelation and by the audiences as an extremely enjoyable and stimulating experience, with their irreverent and circus like live shows and the great relationship that the band is able to establish with the fans.
Voodoo Highway started their journey in late spring 2010 and then immediately recorded their first EP, This Is Rock N' Roll, Cocks!, which has sold over 1,000 copies all around Italy and attracted the attention of important names of music history such as Craig Gruber (formerly ELF, RAINBOW, BLACK SABBATH, GARY MOORE) who spoke about the band: "The new movement of heavy metal has arrived! This band is the next DEEP PURPLE!"
More on Voodoo Highway at this location.