JIM FLORENTINE - Cringe 'N' Purge CD/DVD To Be Released October 25th; Pre-Orders Available
September 7, 2011, 6 years ago
JIM FLORENTINE's latest live comedy CD/DVD, and Metal Blade Records debut, Cringe 'N' Purge, is now available for pre-order at this location.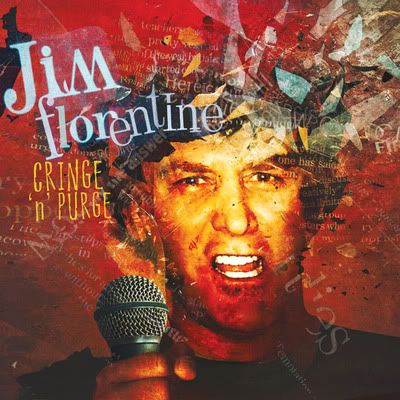 As a special treat for fans that see Florentine live, a special, limited edition, Cringe 'N' Purge tour laminate will be sold by Jim himself at each show. Each laminate contains a unique code which fans can redeem at this location to have a copy of the Cringe 'N' Purge CD/DVD mailed directly to them. The laminates will be available at all upcoming shows leading up to the release of the album. Cringe 'N' Purge will be available on-line and in stores on October 25th.
A live audio and video clip from Cringe 'N' Purge is available below:
Besides hosting VH1 Classics That Metal Show, Jim Florentine has also appeared on shows such as HBO's Inside the NFL, Late Late Show with Craig Kilborn, Chelsea Lately on E, The Howard Stern Radio and TV Show, Jimmy Kimmel Live on ABC, MTV Music Video Awards, Spike TV Video Game Awards, HBO Down and Dirty Comedy Show, The Apprentice, and of course as "Special Ed" and "Bobby Fletcher" on Crank Yankers. His theatrical career was ramped up this summer when he appeared on the screen alongside The Office's Jenna Fischer in the movie A Little Help.