Join GWAR Frontman Oderus Urungus For Bloody Pit Of Horror Happy Hour In NYC This Wednesday
January 14, 2011, 9 years ago
Everyone's favorite foul-mouthed, crack-smoking and baby-eating alien is making his return to New York City. That's right, Oderus Urungus, lead singer of GWAR, will be in the Big Apple not only to appear on a bevy of TV and radio shows, but actually mingle with the human race in the more social setting of a East Village bar.
"My interaction with the human race is usually confined to crushing skulls and counseling rape-victims", said Oderus. "This is something new for me."
Oderus and the boys are frequent visitors to the city that also is rumored to harbor the headquarters of GWAR manager and shadowy crime mogul Sleazy P. Martini. Just last month GWAR played to their faithful maggots the day after Christmas, bringing with them the blizzard of 2010. Scores of GWAR fans froze to death as their blood-drenched clothing froze solid upon exiting the show.
Now the mighty Oderus is returning to New York City, and woe upon those who do not come party with him. Wednesday January 19th from 7-10 PM the ever affable host extraordinaire, Oderus Urungus, will be showing his warty face (and the rest of him) at The Bloody Pit of Horror Happy Hour, which takes place Idle Hands Bar in New York City. Idle Hands is located at 25 Avenue B, downstairs b/t 2nd and 3rd streets in the Village. Drink specials include $5 bloody beers and $5 bloody shots. The featured beer of the evening will be Coney Island Lager's "Freaktoberfest" which has a 6.66 % ABV and is made with real zombie blood.
The event will also serve as a release party for the new GWAR picture disc LP versions of Lust in Space and Bloody Pit of Horror.
Oderus states, "I can't wait to booze up with the human filth of the tri-state area."
GWAR recently announced they are returning to the US for one final spurt of touring to begin the homestretch towards the conclusion of their 25th Anniversary celebration.
Oderus Urungus comments on the tour: "It's seems we were about 8,000 zombies short of our goal, which was to fill every hull of our Skumdog War Fleet with blood-mad slavering zombie shock-soldiers. So we decided to come back to the US, re-open the Bloody Pit, and mutate some more of our helpless followers. Then we shall invade the very heart of the galaxy with our infected hatred and lust for war against all things alive. That and party."
Upcoming GWAR dates are as follows:
February
17 - Raleigh, NC - Lincoln Theatre
18 – Allentown, PA - Crocodile Rock
19 – Millvale, PA - Mr. Smalls Theatre
20 - Brooklyn, NY - Music Hall of Williamsburg
21 - Syracuse, NY - Westcott Theater
22 - Burlington, VT - Higher Ground
23 - Providence, RI - Lupo's Heartbreak Hotel
24 - Sayreville, NJ - Starland Ballroom
25 - Richmond, VA - The National
In other GWAR related news, Metal Blade Records has announced the release dates for the vinyl versions of both GWAR's Lust In Space and Bloody Pit Of Horror.
Lust in Space is being released on January 18th and it is a picture disc with a gatefold sleeve.
Bloody Pit Of Horror will be released on February 15th and it is a picture disc with a die cut gatefold sleeve.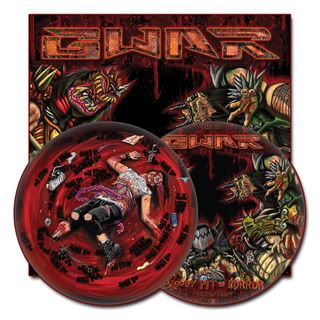 When he's not out singing about or actually beating things to death, bass player Beefcake the Mighty has volunteered for BloodyDisgusting.com to offer his advice to the lovelorn.
GWAR's latest album Bloody Pit Of Horror is in stores now on CD and can be purchased on the official GWAR page on the Metal Blade Records website.