JON ANDERSON Teams Up With Italian Composer/Producer MARCO SABIU; New Single Available
March 6, 2012, 5 years ago
The international music community is buzzing with excitement over the new collaboration between former YES vocalist/songwriter Jon Anderson and Italian composer/conductor/producer Marco Sabiu. 'Limitless Lives' is the new single, co-written and performed by Anderson and Sabiu, and is now available as a digital download. The song is also available on Marco Sabiu's most recent album Audio Ergo Sum, which was presented on February 18th on live TV before an audience of 12 million people. The album has consequently reached iTunes Italy Top 10.
Anderson commented on the collaboration: "A good friend of mine, musician Alessandro de Rosa put Marco Sabiu and I in touch with each other just last month. I was instantly connected to Marco's music; he sent me the music track and within moments I had sang the song and lyric and sent back to him. Marco loved my singing, so we talked about releasing the song on his new album. I love his 'Limitless' theme for the song, as I wrote the lyric I realized we have so much to learn in this life, and we are truly Limitless human beings."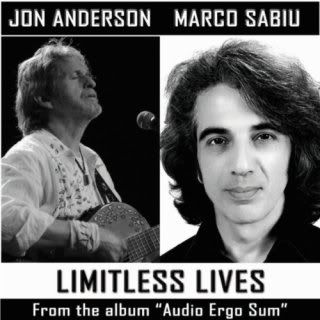 Sabiu: "The collaboration with Jon was born by chance, as most of the best things often do. What I found in Jon is the ideal musical partner: I've never met anybody who has understood my music and bettered it so quickly and effectively as Jon did. I was always very passionate about prog-rock, and being able to work with a legend like Jon is an honor, and truly exciting."
Anderson and Sabiu are planning to record a full album together and a tour in 2013.
Use the widgets at the bottom of the page to purchase Jon Anderson / Marco Sabiu 'Limitless Lives' and Sabiu's Audio Ergo Sum.
As previously reported, Anderson has denied recent rumors about being asked to re-join Yes. He has release the following response to recent quotes in the news by Chris Squire that he is in regular communication with Anderson:
"I haven't spoken with Chris in four years, and the only e-mail I have received from him in the last three years was him asking for free tickets to my show in Mesa, AZ last week - very sad, but true."
Anderson is currently on tour performing solo. Dates are as follows:
March
7 - Theatre of Living Arts - Philadelphia, PA
8 - Baltimore Sound Stage - Baltimore, MD
10 - B.B. King Blues Club & Grill - New York, NY
14 - Infinity Hall - Norfolk, CT
15 - Wilbur Theatre - Boston, MA
17 - Narrows Center For The Arts - Fall River, MA
19 - Bergen Performing Arts Center - Englewood, NJ