JUDAS PRIEST Confirm Massachusetts Live Date
September 7, 2011, 6 years ago
British metal gods JUDAS PRIEST have announced a new US live date for the fall: November 20th at Paul E Tsongas Arena in Lowell, MA.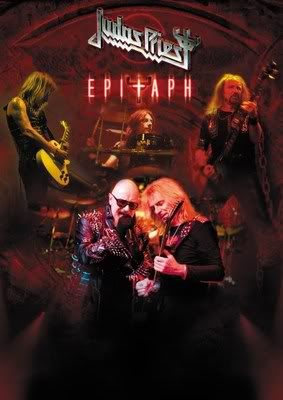 Confirmed dates North American dates now include:
October
12 - San Antonio, TX - AT&T; Center
14 - Corpus Christi, TX - Concrete Street Ampitheater
15 - Houston, TX - Cynthia Woods Mitchell Pavilion
16 - Dallas, TX - Allen Event Center
18 - Tuscon, AZ - Ava Ampitheater
19 - San Diego, CA - Cricket Wireless Ampitheater
21 - Phoenix, AZ - AZ State Fair
22 - San Bernadino, CA - SAn Mauel Ampitheater
23 - Las Vegas, NV - Hard Rock
25 - Los Angeles, CA - Gibson Ampitheater
26 - Oakland, CA - Oracle Arena
27 - Concord, CA - Sleep Trail Pavillion
29 - Seattle, WA - WaMy Theater
30 - Vancouver, BC - Rogers Arena
November
1 - Edmonton, AB - Shaw Conference Center
2 - Calgary, AB - Scotiabank Saddledome
4 - Salt Lake City, UT - Maverik Center
5 - Denver, CO - 1st Bank Center
8 - Cincinnati, OH - US Bank Arena
9 - Springfield, IL - Prairie Capital Convention Center
10 - St. Louis, MO - The Family Arena
12 - Chicago, IL - The Venue At Horeshoe Casino
13 - Detroit, MI - Joe Louis Arena
15 - Cleveland, OH - Quicken Loans Arena
16 - Rochester, NY - The Armory
18 - East Rutherford, NJ - Izod Center
20 - Lowell, MA - Paul E Tsongas Arena
22 - Toronto, ON - Air Canada Centre
23 - Quebec City, QC - Colisee Pepsi Arena
24 - Montreal, QC - Bell Centre
26 - Reading, PA - Sovereign Center
27 - Winston-Salem, NC - Lawrence Joel Veteran's Memorial Coliseum
30 - Tampa, FL - 1-800-ASK-GARY Amphitheatre
December
1 - Miami, FL - Bayfront Park Amphitheatre,
3 - Biloxi, MS - Hard Rock Biloxi Hotel & Casino
Judas Priest have also announced a string of Japanese tour dates for February. The itinerary includes:
February
7 - Sunpalace - Fukuoka, Japan
9 - Cacifico - Yokohama, Japan
11 - Kokusai Hall - Kobe, Japan
13 - Alsok Hall - Hiroshima, Japan
14 - Prefectural Arts Theater - Aichi, Japan
16 - Budokan - Tokyo, Japan
Judas Priest frontman Rob Halford promises the group is well on its way towards making its next album.
Halford tells Billboard.com that he and guitarist Glenn Tipton "began writing new music early on this year, before we went out on the road. We have about 12 or 14 tracks completely mapped out, four of which have been recorded and mixed and are ready to go... so the good news is that there will be a brand new Priest record next year."
Halford adds: "I think it's fair to say that this is going to be just another great, traditional British heavy metal album from Priest with what you love about the band - the riffs, the screaming vocals, all of the tradition and heritage that we try to keep somehow in our music as we've moved along.
The Epitaph World Tour is hardly the last we'll see of Judas Priest, and Halford acknowledges that the group is "taking every opportunity to let our fans know this is not the end of Judas Priest. We're just cutting back on these big, long treks around the world that we love to do. But yet we're facing mortality; as a metal singer I'm still able to do the vast majority of things that have laid out before me...but I'd be the first to admit that I'm finding it more challenging now, and I don't want to get into that syndrome where you end up a little bit punch-drunk and you're not giving the performance that you want to give. I'm delighted that we're taking this approach because the inevitable payoff is that it gives the band more life. We're able to continue doing selective shows in the future and, as importantly, keep recording and making new metal records."
Read the entire interview at Billboard.
For technical reasons Judas Priest have had to move the release date for Single Cuts (Sony Music), a CD Singles box set including their complete UK CBS/Columbia singles, to October 10th.
Says the band, "We really appreciate your support and so to say thanks for your patience, we've added a free magnet set of Judas Priest Album covers (worth £15) to all box sets that are pre-ordered on JudasPriest.com. All pre-orders will now ship on or before October 10th."
Single Cuts is testament to Priest's enduring influence and through the singles, tells the story of one of the biggest metal bands of all time. Presented in a deluxe, numbered box, Single Cuts boasts a massive 52 tracks across 20 CDs, featuring original singles artwork and labels plus booklet including sleeve notes and photos.
Tracklisting:
1977 - Diamonds and Rust' / 'Dissident Aggressor'
1978 - Better By You, Better By Me' / 'Invader'
1978 - Evening Star' / 'Starbreaker'
1978 - Before The Dawn' / 'Rock Forever'
1979 - Take On The World' / 'Starbreaker (Live)' / 'White Heat Red Hot (Live)'
1979 - Evening Star' / 'Beyond The Realms Of Death' / 'The Green Manalishi'
1980 - Living After Midnight' / 'Delivering The Goods (Live)' / 'Evil Fantasies (Live)'
1980 - Breaking The Law' / 'Metal Gods'
1980 - United' / 'Grinder'
1981 - Don't Go' / 'Solar Angels'
1981 - Hot Rockin'' / 'Breaking The Law (Live)' / 'Steeler' / 'You Don't Have To Be Old To Be Wise'
1982 - You've Got Another Thing Comin'' / 'Exciter (Live)'
1982 - (Take These) Chains' / 'Judas Priest Audio File'
1984 - Freewheel Burning' / 'Breaking The Law (Live)' / 'You've Got Another Thing Comin''
1984 - Some Heads Are Gonna Roll' / 'The Green Manalishi (With The Two-Pronged Crown)' / 'Jawbreaker'
1986 - Turbo Lover' / 'Hot For Love'
1986 - Locked In' / 'Reckless' / 'Desert Plains (Live)' / 'Freewheel Burning (Live)'
1990 - Painkiller' / 'United' / 'Better By You, Better Than Me'
1991 - A Touch Of Evil' / 'Between The Hammer And The Anvil' / 'You've Got Another Thing Comin' (Live)'
1992 - Night Crawler' / 'Breaking The Law' / 'Living After Midnight'